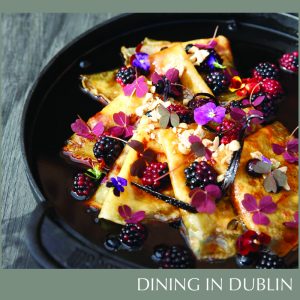 Celebrate Pancake Tuesday the Weber Way with delicious barbecued pancakes. Impress your guests with an alternative take on the classic dish which is always a crowd pleaser.
It's not every day you barbecue pancakes but with the Weber Griddle it's easy!
Follow the step-by-step recipe below for the perfect stack of delectable brunch treats.
CLASSIC PANCAKE RECIPE
Serves: 4 people

Preparation time: 30 minutes
BBQ temperature: 200 °C
Method: Direct
Equipment: GBS griddle
INGREDIENTS:
Pancakes:
200 g plain flour
30 g sugar
1 vanilla pod
1 pinch of salt
½ tsp cardamom
Zest of ½ lemon
3 eggs
300 ml whole milk
50 ml beer Butter for frying
Sauce:
80 g sugar
30 g butter
200 ml mild coffee (freshly-brewed)
40 g brown sugar
1 vanilla pod
100 g blackberries
50 g blueberries
50 g chopped hazelnuts, lightly roasted
A handful of red sorrel blooms
Vanilla ice cream
IN THE KITCHEN:
Slice the vanilla pod and scrape out the seeds, saving the vanilla pod for later use.
Mix the flour, sugar, vanilla sugar, salt, cardamom and lemon zest in a bowl. Add the milk and beer while stirring.
Add one egg at a time while whisking. Whisk the batter thoroughly – there mustn't be any lumps. Put the batter in the fridge for one hour.
Prepare the barbecue for direct heat, 200° C. Place the

griddle

in the GBS grate and pre-heat.
Add butter to the griddle, and fry the pancakes one at a time, turning once. Add more butter as required. When the pancakes are done, fold them into triangles and cover.
Caramelize the sugar lightly in the griddle, add butter and the vanilla pod and let the butter sizzle while stirring. Add the coffee and brown sugar and simmer until the sugar is dissolved. Let the caramel reduce for a thicker consistency.
Add eight folded pancakes to the caramel sauce and heat them carefully, turning them once. When the pancakes are hot, add blackberries and blueberries, and heat up quickly.
Decorate the pancakes with berries and red sorrel on a plate or serve directly in the griddle. Before serving, sprinkle the pancakes with chopped hazelnuts. Serve with ice cream.
About Weber:
We have been celebrating perfect BBQs since 1952 with our superior know-how, unique range of products and our enthusiasm for all things 'Weber'. We are the original BBQ brand, no other barbecue manufacturer can boast such a wealth of experience and knowledge as Weber. In the same way we invented the kettle barbecue in Chicago from a simple marine buoy, we continue to develop the whole world of barbecuing bit by bit every day.
As one of the world's leading providers with the most comprehensive range of quality products and services in the industry, today Weber is Internationally synonymous with barbecuing innovation, perfect barbecue products and the ultimate barbecue experience. With offices in over 40 countries on all continents, we continue to promote the Weber BBQ culture around the world.
Visit www.weber.com