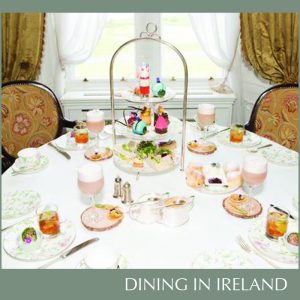 Dromoland Castle is delighted to announce their partnership with The Burren Perfumery. In celebration of the partnership, the Five Star Dromoland Castle is offering a unique Afternoon Tea experience based on the allure of The Burren.  Located in County Clare, The Burren is known for its beautiful limescale landscapes, high oceanic climate and is home to over 1100 species of plants. Dromoland Castle's Sensory Afternoon Tea sets to awaken your senses and recreate the feeling of being at The Burren with delicious herbal teas, sandwiches and desserts.
Begin your experience with the Amuse Bouche, consisting of a Burren-inspired iced Summer Herbal infusion with flowery elegance and well-balanced aroma, coupled with a kid goat and wild herb roulade and a tart crab apple jelly.
You can also avail of this afternoon tea's 'mocktail' called An Bhoireann, composed of Burren honey, rosemary, hibiscus syrup, lemon juice, egg white and Yunnan white tea. Upon serving, it is sprayed with a combination of rosemary and lemon oil, reminiscent of the fragrances of The Burren.
This exclusive afternoon tea also celebrates local produce from The Burren such as Burren gold cheese, distinct Burren beef and Burren smokehouse Atlantic wild mackerel in the stunning sandwiches on offer.
Top off the unique taste experience with tasty treats alongside the light and fluffy Dromoland fruit scones with clotted cream and fruit preserve, a necessity for any afternoon tea. Indulge in Dromoland-exclusive desserts such as Wild Raspberry Pyramidal Mousse, 'Butterfly' Chocolate & Fudge Cake and Bilberry Macaroons. In keeping with the Afternoon Tea's individual theme, there is also 'Dolmen' Fruit & Porter Cake and Burren Honeybee Financier with Honeycomb.
This is the first in a series of exciting activations to celebrate the partnership of two inspiring brands situated in the stunning Co. Clare.
Available 1st September – 14th October. Cost €35.00 per person plus 17.5% service charge.
To book your afternoon tea or for more information on Dromoland Castle, visit http://dromoland.ie or call (061) 368 144.
About DROMOLAND CASTLE:
Dromoland Castle, located in Newmarket-on-Fergus, County Clare, was built in the 16th century. Majestically set on the shores of Lough Dromoland, it is surrounded by over 450 acres of breath-taking scenery, including a championship parkland golf course. Lavish interiors, fine food and superb wines compliments the deluxe accommodations of the Castle's 97 guest rooms, while Dromoland Castle Golf and Country Club, an intimate spa and traditional outdoor recreational opportunities ensure a unique guest experience. Sister property The Inn at Dromoland, located on 21 adjacent acres, features 150 rooms and a banqueting centre hosting up to 400 guests.
Dromoland Castle is located at Newmarket-on-Fergus, Co. Clare, Ireland. The hotel can be contacted on 061 368 144 or online at www.dromoland.ie. Reservations can be made through the hotel or online.