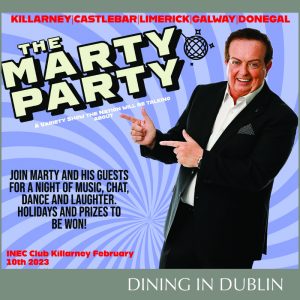 Join Marty & guests for a night of music, chat, dance & laughter with holidays and prizes to be won at every show – this is a variety show the nation will be talking about!
Calling at Killarney's INEC Club (Friday 10 February), Royal Theatre, Castlebar (Saturday 11 February), Limerick's University Concert Hall (Friday 10 March), Leisureland, Galway (Saturday 25 March) and Letterkenny's Clanree Hotel (Friday 31 March). Tickets are on sale now – see local venue for ticket details.
RTE Broadcaster Marty Morrissey, affectionately mimicked by the likes of Mario Rosenstock and Oliver Callan as "I'm Marty …and I Like to Party", is bringing his brand new Variety Show on tour across Ireland this February and March – following sold out shows during the summer.  
The Marty Party will feature a host of special guests – with every show featuring a variety of National and Local Stars. Special guest appearances announced to date include Eurovision Winners Paul Harrington and Charlie McGettigan, Cairdre, The Galway Tenors, and many more! Please see the local venue for more details on who will be joining The Marty Party!
This show showcases what Marty is all about – it'll be Fun, Loud, Over-the-top, and it's guaranteed to keep you on the edge of your seat! There will be glitz, there will be glam & most importantly there will be false tan!
Speaking about the tour, Marty Morrissey said:"I am so excited about bringing the Marty Party around the country to five different venues starting in February in Killarney and Castlebar. Life is for living and we've all experienced tough times in recent years so this Show brings people and communities together for a night out to laugh, sing and dance in a 21st Century Variety Party. There is so much talent in our country, I'm hoping that these Shows will give some local people with that raw ability the opportunity to share a stage with some better known stars and who knows what will happen after that."
Don't miss The Marty Party on tour across Ireland this February and March – the variety show the nation will be talking about!
The Marty Party is proudly supported by XL Stores, offering a great deal more at your Local Store.