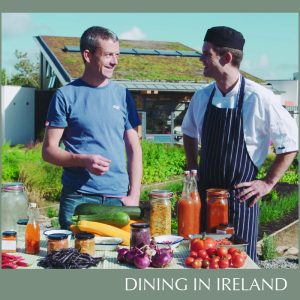 The final episode of series 2 of 'GROW COOK EAT' is set to air on Wednesday, April 24th and presenter duo founder of GIY Michael Kelly and the GIY Head of Community Development Karen O'Donohoe detail how to get growing Spicy Chillis in the garden, in the greenhouse or on the windowsill.
During the programme which will air on RTE 1 at 8.30pm Chef, Katie Sanderson puts the GROW COOK EAT presenters' tastebuds to the test with an Indian chilli pickle, tamarind sauce with yoghurt and poppadoms, and Karen O'Donohoe and Michael Kelly can just about stand the heat.
Michael and GROW HQ Head Chef JB Dubois talk about gluts of vegetables and the many ways growers can make the most of a harvest by preserving, fermenting, and of course sharing.
With an eye to next year, Michael and Karen talk through the top five things growers need to do to prepare for the following growing season, before they sign off with a reminder to check www.growcookeat.ie for all the information and recipes from the series.
'GROW COOK EAT' is a very practical series, aimed at helping people with little or no knowledge of growing their own food. As well as the step-by-step guides to growing vegetables, the series showcases features on water harvesting and improving soil fertility.
The show is anchored at the home of GIY, at Grow HQ in Waterford City and each week the TV show also sees presenters Michael Kelly and Karen O'Donohoe travel to meet and visit expert food producers, chefs, and community food growing projects all across the country, plus delicious menu ideas will be shared weekly by Chef Katie Sanderson te full list of recipes from this series can be found on the show website.
GROW COOK EAT is sponsored by Bord Bia and StopFoodWaste.ie. For further details, the veg growing guides, lots of extra recipes and more info on each episode visit http://growcookeat.ie/
#GrowCookEat
@giyireland
About GIY
Michael Kelly founded the social enterprise GIY in 2008.  Having grown his own fruits and vegetables for several years, Michael discovered there was no local food growers group in Waterford, so he set one up himself.  GIY inspires and supports people to grow their own food at home, in school, in workplaces and in the community.
During 2018 GI supported over 850,000 people and 8,000 community food-growing groups and projects in Ireland and the UK. The ethos behind GIY is that when people grow food on any level they gain an understanding for food called 'food empathy', which has a significant impact on their well-being and the health of the planet.
In October 2016 GIY opened the award-winning GROW HQ, the home of the GIY movement and its National Food Education Centre in Waterford City.
GROW HQ will within the next 5 years attract 250,000 visitors, re-skill 17,000 people to learn how to grow and cook their own food. The GROW HQ bistro is rated as one of Ireland's Top 100 Restaurants by The Sunday Times. It also won the Plot to Plate award at the Food
CHILLI RECIPE BY CHEF KATIE SANDERSON
Indian chilli pickle Yoghurt & Popadums.
People always taste chillis at the tip but it's better to taste them at the root it's closer to the attachment to the plant and this is where it's the hottest. (More capsaicin)
Papadums are a fun thing to cook( think will look good on film) and lots of people have a favourite curry recipe thought it would be nice to shine some light on the condiments that can be on the table at same time.
Something in a jar, good present for Christmas or birthdays.
Recipes
ingredients
8 red chilli
1 small ball sized tamarind
¼ tsp turmeric
1 tsp salt
1 tsp cumin
1 tsp mustard
1 tsp coriander seeds
1 tsp fennel seeds
2 tbsp oil
1 tsp mustard seeds
2 cloves of garlic roughly chopped
Few curry leaves
Blitz the chilli with the tamarind
Add the turmeric and salt.
In a frying pan heat the spices till aromatic
Grind in pestle and mortar ( nice visual)
Add to the chilli mix
In a pan heat some oil add sliced garlic, mustard seeds and curry leaves and then add to chilli mix
Keeps in the fridge for a few weeks.
Really amazing mixed with chipotle and used in sandwiches or keep authentic and serve alongside Indian dishes