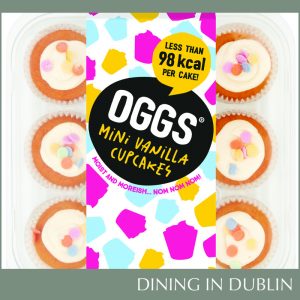 OGGS® is shaking up the Irish cake industry with the launch of the first-ever vegan supermarket cake range, stocked exclusively in Dunnes Stores across Ireland. These great-tasting dairy and egg-free OGGS® cakes are about to change the game.
The OGGS® mission is to create plant-based alternatives to everyday foods that taste as delicious as you've always known them, without any compromise. All whilst doing their best to positively change the future of the planet, animals and people, with every little bite.
No part of any animal is used in the creation of this range and the packaging is 100% recyclable, which helps to reduce the impact on the planet. Even the plastic used is recycled and if it ends up in landfill is completely biodegradable! OGGS® Founder, Hannah Carter said: 'As a business our focus has always been on creating a product that is friendly to the planet, animals and people and weren't prepared to compromise on our packaging.'
Since the launch of their cake range in June 2019, OGGS® have already had a positive impact:
·       Total eggs saved – 18,030
·       Pieces of plastic that will biodegrade – 355,047
·       Litres of water saved from reduced egg production – 55,822
Choose from three different flavours: Zesty Lemon, Victoria Sponge and Chocolate Fudge. Completely plant-based and entirely ethical, this range is made with the well-being of animals (vegan), humans (intolerance to human trafficking) and our whole environment (planet friendly packaging) in mind.
Hassle-free, guilt-free treats like these don't come along every day, until now. So why not make the switch today?
Recently launched in 65 Dunnes Stores outlets nationwide, the mini cakes will be priced at €5.99 for a 4 pack, €2.95 for a 2 pack, €5.99 for a 9 pack of mini cupcakes.