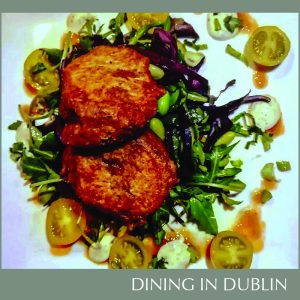 These recipes are devised by Paul Watters –  author of "Simple Tasty Healthy by PW"
Thai spiced apple and beetroot cakes
INGREDIENTS
2 red apples deseeded and cut into chunks
4 cooked beetroot
1 red onion peeled and cut into quarters
1 can of chickpeas drained and rinsed
2 tablespoons of red Thai curry paste
1/2 red pepper cut in half again and deseeded
1/2 bunch of coriander
Salt and pepper
1/2 cup of soya flour
METHOD
Blend all together in a food processor until smooth
On a work surface sprinkle some soy flour and gather cake mix
Shape to roughly ping pong size and flatten
Repeat until mix is finished (my tip place a layer of cling film on a plate and this will help keep shape and prevent from sticking)
Allow to rest for 2 hours in the refrigerator before cooking.
Broad bean and mixed leaf salad 
INGREDIENTS
1 cup of broad beans
A handful of fresh rocket
A handful of mixed leaf
A handful of cherry tomatoes cut in half
METHOD
Boil broad beans for a few minutes and cool under cold water then remove from the shell.
Mix well with black pepper in a mixing bowl.
Red pepper dressing 
INGREDIENTS
1 red pepper cut into quarters and deseeded
1 clove of garlic (peeled and keep whole)
1 sprig of thyme
1 teaspoon of avocado oil
1/2 cup of avocado oil
METHOD
In a small frying pan drizzle the avocado oil
Add the red pepper and fry for 2-3 mins
Add garlic and cook for a further 2.
Place into a food processor, whisk until smooth
Gradually add oil and season with salt and pepper
Carrott and apple slaw 
INGREDIENTS
1 red apple (cut in quarters and deseeded)
1 Carrot( peeled)
1 handful of fresh chopped coriander
METHOD
Slice the apple finely and transfer into a small mixing bowl
Peel the carrot – again this will form a ribbon effect then cut into thin strips
Add to the apple
Add fresh coriander
Mix well
Wasabi mayo 
INGREDIENTS
1/2 teaspoon of wasabi
1 lemon (cut in half)
1 teaspoon of dijon mustard
1/2 cup of chickpea flour
1 cup of avocado oil
Salt and pepper to taste
METHOD
In a a food processor blend well until a mayo base has formed and season with salt and pepper (add a little warm water if too thick)
In a large frying pan heat 2 tablespoons of avocado oil and cook required amount of cakes
While they are cooking arrange the salad on the plate.
Cook for 4-5 minutes each side until golden
Place on top of mixed leaf and top with slaw
Drizzle red pepper dressing around the plate and top with wasabi mayo
For more of Pauls recipes and foodie tips, visit his Facebook page: https: https://www.facebook.com/Paulwattersfood or email:    paulwatters35@gmail.com