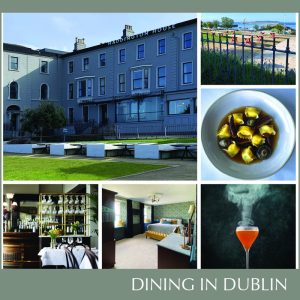 Summer at Haddington House in Dún Laoghaire offers discerning travellers everything needed to experience those summery vibes. Choose from guided walks around the coastal town, accompanied sea swims at local dipping spots and complimentary bike hire, followed by exquisite Italian fare at Oliveto restaurant and fabulously creative cocktails at the Parlour bar, all set against the stunning backdrop of Dublin Bay.
A unique 40-bedroom boutique hotel, Haddington House occupies a collection of four beautiful Victorian townhouses looking out over Dún Laoghaire Harbour, offering a rare mix of old world charm and warm hospitality. The design-led, decadent interior styling of Haddington House harks back to Victorian times with plush velvet and tapestry textures, marble and brass detailing, offering the ultimate in understated luxury.
Overlooking Dublin Bay, it also offers the perfect base to enjoy Dublin's extraordinary coastline, from incredible views to hidden coves, iconic architecture and envy-inducing homes. The hotel has created a number of bespoke House Experiences to ensure guests get the maximum from their stay. These include Walk & Talk excursions where Haddington House team members take guests on a walk around the neighbourhood from Dún Laoghaire to Glasthule, sharing local knowledge and favourite hangouts.
A dip at famed local bathing spot, the Forty Foot, is a daily ritual at Haddington House and guests are encouraged to join in, with accompanied swims, complimentary towels and hot water bottles provided. An unrivalled spot for sea swimming, guests are spoiled for choice with the Forty Foot and Sandycove close by, while the bathing spots of Vico and Whiterock are just slightly further afield.
Haddington House also provides complimentary Brooklyn Bikes, complete with high vis jackets and helmets, allowing guests to explore the area taking in all the local sites, from the James Joyce Tower and Museum and the bustling cafés of Dalkey to the lobster boats at Bullock Harbour.
Other local attractions include the People's Park Market which takes place beside the hotel every Sunday morning, along with Killiney Hill and Dalkey Island, as well as three of Dublin's prettiest villages: Sandycove, Glasthule and Dalkey. For a unique perspective on the city's coastline, Dublin Bay Cruises operate from the East Pier in Dún Laoghaire, just opposite the hotel, offering cruises to Dublin city centre and Howth.
After a long day exploring, guests can join locals to enjoy a meal at Oliveto, Haddington House's critically-acclaimed Italian-inspired restaurant. Led by Executive Head Chef Barry O'Neill, formerly of Michelin-star restaurant Bastible, the restaurant serves an innovative Italian menu using locally sourced, seasonal ingredients. Haddington House is also home to the Parlour, a sumptuous parlour space serving coffee and treats by day, which transforms into a salubrious cocktail bar by night. There's also a gorgeous Victorian Garden Bar that offers panoramic views of the bay across Dún Laoghaire pier and Howth Head, and serves cocktails and artisan pizzas from May to September.
Rooms from €165. To plan and book your stay, visit www.haddingtonhouse.ie
Keep up to date with the latest news by following Haddington House on Instagram at @haddingtonhouse