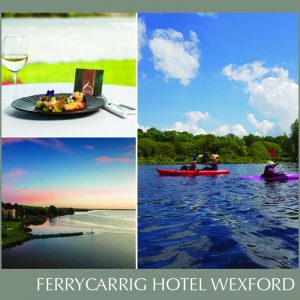 The four-star Ferrycarrig Hotel in Wexford has created a summer adventure break like no other. Whether you are looking for fun, action or adventure, from learning to surf or kayak to sand-duning to stand-up paddleboarding, archery or horse-riding, the team at Ferrycarrig have teamed up with the best adventure suppliers in Wexford to create a unique 'Adventure Escape' break where you can build your very own adventure experience.
Ferrycarrig Hotel boasts an inspiring location sitting on the water's edge of the River Slaney with every one of the hotel's 102 rooms offering an incredible view, and is also just 20 minutes from golden sand beaches and immersed amongst some top heritage sites in the depths of Ireland's Ancient East. The Adventure Escape package offers guests a series of adventure and cultural experiences in County Wexford all priced exclusively for Ferrycarrig guests to enjoy, ranging from free to a maximum of €49.50 per person for some of the activities all of which are accessible from just 5 minutes to 40 minutes drive from Ferrycarrig Hotel in Wexford.
Guests have the opportunity to let the team at Ferrycarrig do all of the hard work for them as they can simply select one of 10 different activities as part of their stay at Ferrycarrig with a choice of canoeing, kayaking, surfing, stand up paddleboarding, dune boarding, horse-riding, exploring the Irish National Heritage Park, touring the world's oldest working lighthouse at Hook, enjoying the museum and garden experience at Johnstown Castle or exploring a great house and gardens at Wells House or the chance to spend a day at IOAC.
Ferrycarrig Hotel is in the heart of Ireland's Ancient East. Commenting on the adventure package the team at Ferrycarrig say, "There are so many fantastic activities on offer here in Wexford. We created this unique adventure package for our guests to explore all Wexford has to offer. There is really something for everyone on our Spring Adventure."
Guests can also enjoy dinner at the multi-award winning Reeds Restaurant with its outdoor terrace at Ferrycarrig. The team place a huge emphasis on quality local produce with every dish on the menu featuring fresh locally sourced ingredients from Pat O'Neill's pork belly to Wexford beetroot and orange 'vierge' to Blackwater gin cured Irish trout to grilled Kilmore hake to Rosslare crab, prawn and Tom Cleary's spiced carrot and beetroot to name but a few.
The new Summer Adventure Escape at Ferrycarrig is available for two and three-night stays and includes a delicious breakfast each morning at Ferrycarrig. An overnight for Bed & Breakfast based on two people sharing midweek is priced from €300, and at weekends from €350. For a family of four including two adults and two children for a two-night break bed and breakfast midweek is from €400 and a weekend stay is from €430; for a family of four for a three-night break bed and breakfast midweek is from €600 and a weekend stay is from €600.
For further details see ferrycarrighotel.ie
Guest and employee safety is paramount at Ferrycarrig and some new tech measures have been put in place to ensure safety at the highest standards. Prior to arrival guests have the open of checking in online in advance; guests will, of course, receive the traditional warm welcome, but at a distance. Clear guidelines on appropriate social distancing, all of the extra measures undertaken by the Ferrycarrig team, ample public hand sanitisation and staff utilising appropriate PPE are all in place alongside a brand new Ferrycarrig App which can be downloaded to any smart device which will allow guests to browse and book hotel services, send messages to the Ferrycarrig team, browse all menus, check the local weather and even check out all of the local attractions and outdoor activities in Wexford.