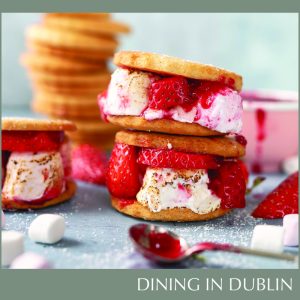 Recreate the traditional fireside treat with a light and fruity twist with Siúcra & Catherine Fulvio's Strawberry S'mores with Fruit Puree.
Swap the chocolate for a tasty fruit puree paired with strawberries and marshmallows for a delicious summer inspired sweet treat!
Ingredients
Makes 10 smores
For the biscuits
200g plain flour
100g softened butter
70g Siucra granulated sugar
3 tbsp ground almonds
1 tsp vanilla extract
3 to 4 tbsp milk
For the puree
100g mixed berries
3 tbsp Siucra caster sugar
For the strawberries
12 strawberries, hulled
1 tbsp Siucra icing sugar
10 to 12 marshmallows
Icing sugar, for dusting
Method
To make the biscuits
Preheat oven to 180˚C/Fan160°C/gas 4.
Line a baking tray with parchment.
Place the flour and sugar into a bowl and rub in the butter.
Add the almonds and vanilla extract.
Pour in enough milk to form a dough and very lightly knead it together.
Wrap the dough up in parchment and leave in the fridge for 20 minutes.
Roll the dough out thinly and cut out circles with a cutter. Place them onto the pre-lined baking tray.
Leave on the tray for 10 minutes to set before transferring to a cooling rack.
To make the puree
Blend the berries and sugar together until smooth.
You need to have the biscuits ready as well as the puree before bbqing the strawberries and marshmallows.
Preheat the bbq, place the strawberries on the bbq grill and cook. Toast marshmallows on skewers over the bbq.
To assemble
Place a toasted marshmallow onto one side of the biscuits, add a strawberry or two as well as a spoon or two of the puree. Close with the other biscuit and dust the top with Siucra icing sugar and serve.