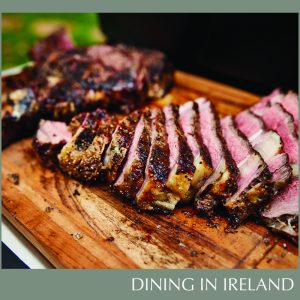 When it comes to perfecting a steak on the barbecue, who better to take advice from than Weber's brand ambassador and celebrity chef, Simon Rimmer. This beautifully simple recipe is a must-know when it comes to your summer recipe stash.
No fuss and full of flavour, Simon will have you returning to this barbecue classic, every time the sun shines!
To view Weber's full product range and for more recipe inspiration visit www.weber.com.
Serves: 2-4 people
Cooking method: Direct
Prep time: 15 minutes
Cooking time: 4-6 minutes
Equipment: GBS Sear Grate instant read
Temperature guide:
Rare – 45 to 50°C
Medium Rare – 55 to 60 °C
Medium – 60 to 65 °C
Medium Well – 65 to 70 °C
Well Done – 70 °C +
Ingredients:
750-900g ribeye steak on the bone 5cm thick (cote de boeuf cut)
2 tsp olive oil
1 tbsp garlic chopped
1 tbsp fresh rosemary
½ tsp salt and pepper
Garlic butter:
50g butter
10g tarragon
4 minced garlic cloves
10g parsley
½ tsp salt and pepper to taste
Method:
In the kitchen:
Brush the steak on both sides with a little oil then season with salt and pepper.

Add garlic butter, chopped parsley and tarragon to a small heat proof pan.
At the barbecue:
Prepare the barbecue for direct heat – approx. 200°C. If using a charcoal barbecue, you need ½ of a chimney starter of lit Weber® briquettes.

Put the sear grate in the GBS™ cooking grate and preheat with the lid closed for at least 10 minutes.

Place the steak on the sear grate and grill for approx. 4 minutes on each side, depending on how you prefer your steak cooked.

Once cooked, remove, and allow steak to rest covered and in a warm place.

While the steak is resting, place the garlic butter pan over the heat and simmer for a few minutes.
Tip:
If your grill has a GBS Cooking Grate you can also use the GBS Sear Grate to cook your steak.
Image: Weber's brand ambassador and celebrity chef, Simon Rimmer.