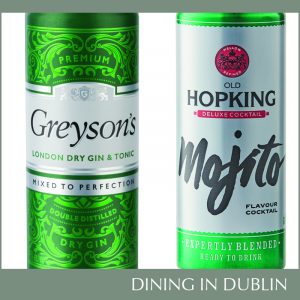 Gin and tonic, cocktails and many more ready-to-drink tipples are available in ALDI stores nationwide! 
Summer is finally here so why not chill out and cool off with a refreshing cocktail? ALDI is home to a range of delicious ready-to-serve drinks which are perfect for enjoying with friends and family.
Gin lovers are spoiled for choice in ALDI with the likes of the perfectly mixed Greyson's Gin and Tonic €1.49 (250ml), the berry tasty Blush'd Gin and Mixed Berry €1.79 (250ml) or Haysmith's Mango and Passion Fruit Gin and Tonic €1.79 (250ml) available in stores nationwide. Simply decant, and serve over ice, for a perfect summer sip or enjoy chilled straight from the can at your leisure.
For a homegrown favourite, you can't beat a Boyle's ready-to-drink gin and tonics. Exclusive to ALDI, and produced by the award-winning Blackwater Distillery in Waterford, Boyle's have an impressive range of pre-mixed tipples boasting unique and distinctive flavours. The range includes International Spirits Challenge 2021 Silver award winner Boyle's Raspberry Gin and Pink Lemonade €1.99 (250ml) which is available all year round and seasonal additions ofBoyle's Gin and Elderflower Tonic €1.99 (250ml), which was also awarded Silver in theInternational Spirits Challenge 2021 and Boyle's Gin with Rhubarb and Ginger Ale €1.99 (250ml).
Shaken or stirred? ALDI also stocks summer-ready cocktails that are made to be savoured in the sun. Channel your inner Carrie Bradshaw with a Cosmo €1.49, cool down with an exotic minty Mojito €1.49 or sip on a vibrant Passion Fruit Martini €1.49! Simply pop, pour and say 'Aaah.' 
Whether you're treating yourself to a tipple in the garden or prepping for a picnic in the park or summer festival, you're bound to find something to quench your thirst in ALDI stores nationwide ensuring you and your pals have an ALDI Amazing Summer!
See below for a full list of ALDI's ready-to-drink cocktails:
Greyson's Gin and Tonic (250ml) €1.49
Greyson's Gin and Diet Tonic (250ml) €1.49
Greyson's Pink Gin and Tonic (250ml) €1.49
Greyson's Pink Gin and Diet Tonic (250ml) €1.49
Old Hopking Mojito Flavour Cocktail Can (250ml) €1.49
Old Hopking Cosmo Flavour Cocktail Can (250ml) €1.49
Old Hopking Raspberry Mojito Flavour Cocktail Can (250ml) €1.49
Old Hopking Passion Fruit Martini Flavour Cocktail Can (250ml) €1.49
Blush'd Gin and Mixed Berry (250ml) €1.79
Haysmith's Mixed Gin and Tonic (250ml) €1.79 Choose from Bramble or Mango and Passionfruit.
Boyle's Gin and Elderflower Tonic (250ml) €1.99 Won Silver in the International Spirits Challenge 2021.
Boyle's Raspberry Gin and Pink Lemonade (250ml) €1.99 Won Silver in the International Spirits Challenge 2021.
Boyle's Gin with Rhubarb and Ginger Ale (250ml) €1.99