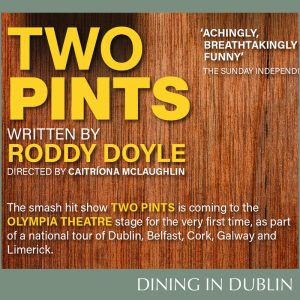 AN ABBEY THEATRE PRODUCTION
RODDY DOYLE'S SMASH HIT SHOW 'TWO PINTS' IS COMING TO THE OLYMPIA THEATRE THIS SUMMER
18 – 29 August 2020
Tickets On Sale Now
'Achingly, breathtakingly funny' – The Sunday Independent
'An absolute gem' – The Sunday Times
After hugely popular performances in pubs all across Ireland, on tour in the US and UK, and on the Abbey Theatre Stage, Roddy Doyle's 'achingly, breathtakingly funny' Two Pints moves to the Olympia Theatre for a summer run from 18th – 29th August 2020. Liam Carney and Philip Judge make a welcome return to their respective roles with director Caitríona McLaughlin.
The hilarious and poignant Two Pints started as a conversation on Facebook. This summer the conversation will take place on the Olympia Theatre stage.  Settle down and listen in as two men meet for a pint, chew the fat and set the world to rights.
Speaking about Two Pints coming to the Olympia Theatre stage for the very first time Roddy Doyle said: "In 1987, I saw my first play, Brownbread, being performed on the Olympia stage. Now, 33 years later, I'll be seeing Two Pints on the same stage. I'm delighted."
Speaking about the inspiration behind Two Pints Roddy Doyle said:  "I sat in the kitchen one evening and, feeling as if I was just about to press a button and perhaps destroy the world, I opened a Facebook account. I was a bit mystified at first and I didn't really know what to do with it.  Then Obama and the Queen of England came to Dublin, and there was a bit of merriment and giddiness around the place that had been absent since the collapse of the economy, and it was great. So I just imagined these two men, slightly older than myself, sitting at a bar and chatting about it. I posted it on Facebook and the reaction was terrific."
Tickets for Roddy Doyle's Two Pints at the Olympia Theatre from the 18th – 29th August 2020 are priced from €26 (including booking fee & €1 restoration levy) and are on sale now via Ticketmaster.ie, Ticketmaster outlets nationwide, The Olympia Theatre Box Office, and by calling Ticketmaster at The Olympia Phone Bookings on 0818 719 330.
Written by Roddy Doyle
Directed by Caitríona McLaughlin
Booking/Listings Information:
Venue: Olympia Theatre, Dublin
Date: 18th –29 August 2020
Tickets: From €26 plus booking free and €1 restoration levy.
Online bookings: Ticketmaster.ie
In Person Bookings: Ticketmaster outlets nationwide or the Olympia Theatre Box Office.
About the Abbey Theatre
Inspired by the revolutionary ideals of our founders and our rich canon of Irish dramatic writing, our mission is to imaginatively engage with all of Irish society through the production of ambitious, courageous and new theatre in all its forms. We commit to lead in the telling of the whole Irish story, in English and in Irish, and we affirm that the Abbey is a theatre for the entire island of Ireland and for all its people. In every endeavour, we promote inclusiveness, diversity and equality.
The Abbey Theatre gratefully acknowledges the support of
The Arts Council / An Chomhairle Ealaíon
Principal Partner
Bank of America Merrill Lynch