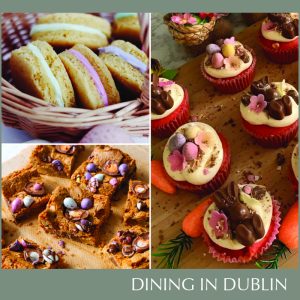 Siúcra and food influencers Aoibhe Devlin, Lili Forberg & Sooby Lynch have teamed up to bring you the most scrumptious Easter goodies….
Red Velvet & White Chocolate Easter Cupcakes with Siúcra and Aoibhe Devlin
Ingredients:
75g Unsalted Butter
150 g Siúcra Caster Sugar
175 g Plain Flour
1 tsp Baking Powder
1/2 tsp Bicarbonate of Soda
2 Medium Eggs
1 tsp Red Food Colour
1 tsp Vanilla Extract
15 g Cocoa Powder
125 ml Buttermilk
1 packet of White Choc chips
Method:
Preheat oven at 160 degrees.
Beat together the butter and sugar in a stand mixer till smooth and fluffy like you would a normal cake!
Add in the eggs and beat again!
Mix together the vanilla extract & the red food colouring. Add to the butter and sugar mix. Add more food colouring if you want a darker colour.
Slowly add in half of the buttermilk and flour. When mixed add in slowly the rest of the flour
Lastly add the Bicarbonate of soda, baking powder. Mix until light and fluffy. Add in the white chocolate chips.
Add to bun buses. Don't fill right to the top as they need room to expand.
Cook in the oven for 18 minutes .
Take them out, allow them to cool & then decorate.
You can decorate as you wish with icing sugar, flakes, mini eggs, chocolate bunnies, flowers etc. Make them as colourful as you wish.
Enjoy!
Easter Blondies by Siucra and Lili Forberg 
Ingredients:
150g (3/4 cup) Siúcra Light Golden Brown Sugar
100g (1/2 cup) Siúcra Caster sugar
150g soft butter
1 egg plus one egg yolk
1 tsp vanilla essence
220g (1.5 cups) plain flour
160g mini eggs (leave some for on top)
80g mini creme eggs for on top
Method:
Mix both sugars and butter. You can do it by hand or use a hand mixer or tabletop mixer. Add egg and vanilla. And fold in the flour. Add in your Easter eggs leaving some for on top. Bake on 180° for 20-25 mins. Add some more Easter eggs on top.
Let cool COMPLETELY before taking out and cutting.
Four Ingredient Spring Cookies with Siúcra and Sooby Lynch
Ingredients:
2 egg yolks
1 cup icing sugar
2 cups Siúcra Plain Flour
1 cup of softened butter
Method:
Sieve Sugar and Flour together.
Add egg yolks and butter and stir until it forms a dough.
Roll out quite thin and cut to your cookie shape.
Bake at 180degrees for 8-10 mins.
Cut with the same cookie cutter before they cool. Leave on wire rack while you make icing.
Follow the icing recipe on the back of the Siúcra Icing Sugar box.
Add some food dye and pipe onto cookies.
Place plain cookie on top to make a cookie sandwich.