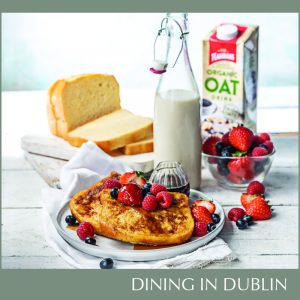 Flahavan's Oat Drinks which come in three delicious variants, Vitamin Rich, Barista and Organic
,
have teamed up with fitness fanatic Nathalie Lennon and fabulous foodie Indy Power to create some lovely recipes using Flahavan's Vitamin Rich Oat Drink and Flahavan's Organic Oat Drink.
Vanilla Chocolate Ganache Cake by Indy Power
Serves 6-8 slices | Takes 1 hour
Ingredients: 
For the cakes:
550ml Flahavan's Organic Oat Drink
1.5 tbsp apple cider vinegar
345g of flour (plain or gluten free)
275g of coconut sugar
pinch of sea salt
1 tsp. of baking soda
1 tbsp. of baking powder
180ml of melted coconut oil
1tsp of vanilla essence
For the ganache:
 270g of dark chocolate chips
 125ml Flahavan's Organic Oat Drink
Method: 
Preheat the oven to 180'C, grease two 20cm spring form cake tins with a little coconut oil.
In a medium bowl, combine the oat milk and vinegar and set it aside.
In a large bowl, mix together the flour, coconut sugar, sea salt and the baking powder and baking soda.
While mixing, pour the melted coconut oil and vanilla essence into the dry ingredients. When that's incorporated, gradually add the milk while continuing to mix. Mix just until well combined.
Divide the batter evenly between your cake tins, if you want to be precise there should be about 640g of batter in each tin.
Bake the cakes for about 36-40 minutes until golden all over and a cake tester comes out clean.
Let them cool for 15 minutes before removing them from their tins and allowing them to cool completely on cooling racks.
To make the ganache, heat the oat milk in a saucepan on medium heat until gently simmering, then turn off the heat.
Add the dark chocolate to a medium bowl and pour the hot oat milk in on top. Add a little pinch of sea salt and stir gently until smooth and glossy.
Spread some of the ganache out over the top of one cake, then place the other one on top and spoon the ganache into the middle. Use a spoon to swirl it outwards, letting it drip over the edges. Serve while the ganache is still drippy.
Post Workout Smoothie by Nathalie Lennon
Serves 1-2 |Takes 5 mins
Ingredients:
150g Raspberries (Or Mixed berries)
1 Sliced Peach
150ml of Flahavan's Vitamin Rich Oat Drink
1 Scoop Protein of Choice (optional)
1 teaspoon of honey
45g Flahavan's Porridge Oats
Method:
Put all the ingredients into a high speed blender and whizz until smooth.
Add ice cubes for extra refreshment if you really need to cool down
Iced Green Tea Matcha
Serves 2 | Takes 5 mins
Ingredients: 
2 teaspoons of Matcha Powder
200ml Warm Water
2 teaspoons of Runny Honey
Flahavan's Vitamin Rich Oat Drink
Ice – to serve
Method:
Put a spoonful of matcha powder into a small jug and add a little of the water and mix to a paste.
Gradually add the rest of the water, stirring well to make sure there are no lumps.
Add the honey, stir to dissolve and let cool.
Fill two glasses full of ice and add the Flahavan's Vitamin Rich Oat Drink so the glass is about ¾ full.
Pour over the matcha over the iced milk, stir to combine and enjoy.
French Toast with Maple Syrup & Summer Berries
Serves 4 | Takes 10-15 mins
Ingredients:
4 slices of thickly cut stale Brioche,
2 eggs
80ml Flahavan's Organic Oat Drink
¼ teaspoon of cinnamon
2-3 tablespoons of butter for frying
To serve
Fresh berries and maple syrup
Method:
Crack the eggs into a shallow dish and add the milk and cinnamon.
Whisk together with a fork until fully combined.
Heat a pan over a medium high heat and add a tablespoon of butter.
Dunk the slices of brioche into the egg mixture for a minute, turn and soak the other side for another minute.
When the butter is foaming, add the bread to the pan and cook for 2-3 minutes each side until crisp and golden.
Serve with fresh berries and a drizzle of maple syrup.
Chocolate & Banana Smoothie
A delicious smoothie with a hint of indulgence – sure we all deserve a treat every now and then!
Serves 1 | Takes 5 mins
Ingredients: 
1 Ripe Banana, sliced and frozen
1 tablespoon of Cocoa Powder
250ml Flahavan's Barista Oat Drink
Chocolate/Cacao nibs to decorate
Method:
Combine all the ingredients in a high speed blender and blend until smooth.
If the bananas aren't frozen, add a couple of ice cubes to the ingredients.
Garnish with a few slices of banana and some chocolate nibs and serve immediately.