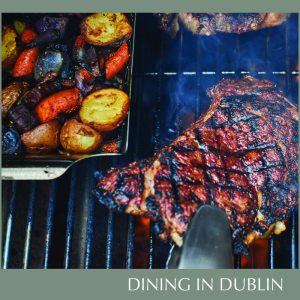 Fire up the barbecue and get ready to cook the ultimate summer feast with this seared sirloin steak recipe by Weber.  See what a Weber barbecue can achieve with a classic steak, all while turning your barbecue into a smart barbecue with the Weber Connect Smart Grilling Hub. Combine with the WEBER CRAFTED​ Sear Grate​ to achieve restaurant quality steak in the garden.   
Let the technology do the work! 
For an added flourish, finish steaks with the of mouth-watering flavours of Weber's Chimichurri sauce. 
Serves: 4
Preparation time: 5 minutes
BBQ temperature: 290°C
Core temperature: 54°C
Cooking method: Direct
Cooking time: 10 – 12 minutes
Key accessories: Weber Connect Smart Grilling Hub and Weber CRAFTED Sear Grate
INGREDIENTS:
4 3cm sirloin steaks
1 tablespoon ground nut or rapeseed oil
Salt and pepper or desired seasoning
METHOD: 
Preparation
Bring the meat to room temperature before cooking.
Coat with little oil and liberally sprinkle salt and pepper or desired seasoning on the steaks.
At the BBQ:
Set your barbecue to 260°C – 290°C temperature.

 

Brush the cooking grates clean.
Insert a Weber Connect temperature probe into the steak and select how you would like it cooked.

 

Grill the steaks over a direct heat with the lid closed.
Turn the steak when prompted on the app or after around 5-6 minutes.

 

Remove the steaks from the BBQ when prompted by the app or after around 5 minutes.

 

Let the steak rest for about 5 minutes; during that time, the internal temperature will rise a few degrees. Serve whole or cut across the grain into 1 cm thick slices.

 

Enjoy a delicious, classic barbecue stake cooked to perfection.

 
*Top tip: Consider using Weber's porcelain-enamelled cast iron grate when cooking steaks as it evenly conducts heat, creating professional-looking sear marks while sealing in the moisture and flavour of your food.
WEBER'S CHIMICHURRI
Try Weber's signature Chimichurri sauce recipe to compliment the perfect summer sirloin steak and enjoy an abundance of mouth-watering flavours.
Serves: 4 – 6 
Cooking time: 15 minutes
INGREDIENTS: 
120ml olive oil
2 tablespoons red wine vinegar
20g parsley, finely chopped
1-2 garlic cloves, finely chopped
1 red chili chopped
1 teaspoon dried oregano
Salt and pepper
METHOD: 
Preparation:
Mix all ingredients in a bowl. Allow to sit for at least 5 – 10 minutes, but ideally for 2 hours.

 

Use to baste meats or add over steak to serve.