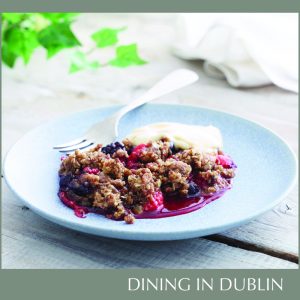 This dessert is quick, easy and a certified crowd pleaser! With buttery crumble and delicious berries. Top with a dollop of cream and enjoy.
Ingredients
500g mixed berries
90g Siúcra Granulated Sugar
¼ tsp of vanilla extract
150g Siúcra Rich Dark Brown Sugar
90g plain flour
1 tsp ground cinnamon
80g porridge oats
100g butter, softened at room temperature
Method
Pre-heat the oven to 200°C.
Combine the berries, Siúcra Granulated Sugar and vanilla extract and place in a pie dish.
For the topping, mix the Siúcra Rich Dark Brown Sugar, flour, cinnamon and oats.
Add the butter and mix into a crumbly mixture.
Spread evenly over the berries and bake in the oven for 15–20 minutes or until it is golden brown.
Serve hot with custard or homemade vanilla cream.
Visit https://www.nordzuckerireland.ie/ for more recipes, inspiration and top tips for cooking and baking.