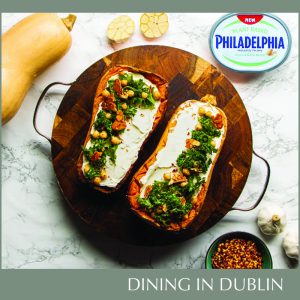 A new plant-based recipe that really delivers on taste and creaminess!
Republic of Ireland, January 2023 – Driven by an appetite for innovation and the will to satisfy every cream-cheese lover,​ Philadelphia is excited for Irish Consumers to discover its new plant based soft cheese alternative.  Available now, Philadelphia Plant Based is a simple, yet delicious recipe that combines oats and almonds into a tasty and creamy spread, as good as the Original.
Whether flexitarian, vegan, or simply exploring new options, Philadelphia Plant Based is the perfect way to savour the freshness and creaminess of Philadelphia without the dairy.
This innovative new product has been two years in the making, with the recipe rigorously tested to ensure it delivers the same exceptional levels of taste and quality as the other products in the Philadelphia range.
Carla Reynolds, Meal Brand Manager for Mondelez Ireland said: "With the increased interest in Veganuary year-on-year, the appetite for plant-based alternatives has never been more apparent. We've worked hard to make sure new Philadelphia Plant Based really delivers the same great taste and creaminess that people love and expect from Philadelphia, and we're delighted that there's now a Philadelphia product for everyone – not a bagel or slice of toasted sourdough ever needs to go without again!"
Philadelphia Plant Based is also produced using recyclable packaging, which forms part of the brand's continuing sustainability journey.
Philadelphia Plant Based is now available in Tesco, Dunnes, and Supervalu stores nationwide.​
*Pricing is at the sole discretion of the retailer.