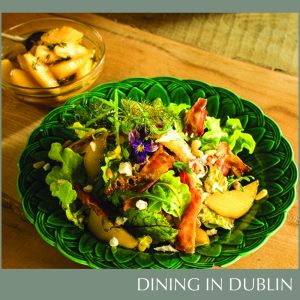 Eating healthy after Christmas doesn't have to be boring!
Siúcra has created this mouth-watering salad for you to enjoy at any time of the day.
The combination of sweet and juicy pears, crispy pancetta and creamy goat's cheese make for the perfect healthy meal to rustle up in the kitchen this winter.
Serves 4
Ingredients
Salad
3 to 4 pears, peeled, cored, sliced into wedges
80g Siúcra Light Golden Brown Sugar
30g butter
1 tsp chopped thyme
100g pancetta
50g rocket leaves
30g salad leaves
2 tbsp. toasted pine nuts
50g soft goat's cheese
Garden herbs such as fennel fronds and edible flowers, optional
Dressing
1 lemon, zest and juice
50ml rapeseed oil
1 tsp Siúcra Caster Sugar
1 tbsp chopped parsley or chives
Salt and freshly ground black pepper
Method
1.       To make the dressing, combine Siúcra Caster Sugar with all the other ingredients. Check the seasoning, adding a little extra sugar, salt and freshly ground black pepper to taste.
2.       To prepare the pears, heat a large frying pan over a medium to low heat with butter and Siúcra Light Golden Brown Sugar and add the pear wedges.
3.       Add the thyme and sauté until softened and golden.
4.       Heat another frying pan and add the pancetta, sauté until crispy and cooked.
5.       Place the rocket leaves and salad leaves on a large serving platter.
6.       Arrange the pears and pancetta on the top.
7.       Spoon over some of the salad dressing and sprinkle the toasted pine nuts on top.  Crumble the goat's cheese on top before serving. Add herbs and edible flowers to garnish (optional).
8.       Serve warm.