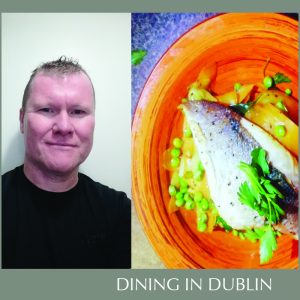 This recipe is devised by Paul Watters –  author of "Simple Tasty Healthy by PW"
INGREDIENTS
4 large sea bass fillets
4 large carrots washed and peeled
12 baby potatoes cut in half lengthways
3 zucchinis (courgette) washed
2 cloves of garlic crushed
4 sprigs of mint
1 cup of frozen peas
2 tablespoons of unsalted butter
4 tablespoons of olive oil
METHOD
First slice bring potatoes to boil in salted water and and gently simmer until slightly soft but still firm.
Preheat the oven at 180.
Place sea bass onto an oven dish skin side up.
Season with salt and pepper and drizzle 2 tablespoons of olive oil over the top of the fish.
Cook for 10 mins until crisp and golden.
While fish is cooking get a large sauce pan and heat on the stove at a high heat  – add remaining olive oil and butter.
Strain off the potatoes in a colander or with a lid under running cold water to prevent steam. Drain well and add to the pan.
Season with salt and black pepper and allow to colour for a few minutes by tossing occasionally.
While the potatoes are cooking with the potato peeler peel the carrot and courgette as if you would normally peel the vegetable –  this will form a ribbon effect.
The potatoes will begin to brown, add in garlic and mint.
Then add in carrot & courgette ribbons and frozen peas.
Continue to cook for a few minutes.
Taste and season with salt and pepper if required (chefs tip: add a little chopped flat leaf parsley through the mix) stirring until all the vegetables and seasoning has been mixed through.
Meanwhile your fish will be cooked so place to one side to rest.
In large serving dishes arrange the vegetables on plates or large bowls.
Place sea bass on top and enjoy with a drink of your choice!
For more of Pauls recipes and foodie tips, visit his Facebook page: https: https://www.facebook.com/Paulwattersfood or email: Paulwatters35@gmail.com