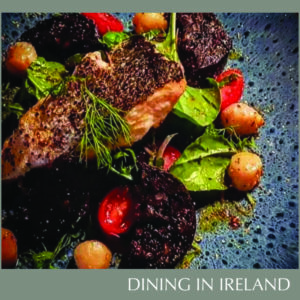 This recipe is devised by Paul Watters –  author of "Simple Tasty Healthy by PW"
Oven roasted salmon with a baby spinach salad, black pudding and baby scallops along with picked dill and a matcha tea sprinkle – serves 2
Ingredients:
The Salad
100g baby spinach leaves
4 cherry tomatoes (cut in half)
1/2 red onion (finely sliced)
1/2 cucumber (sliced at an angle)
A couple of sprigs of picked dill
A drizzle of olive oil
Salt and pepper
2 large salmon fillets
8 baby scallops
8 slices of black pudding.
1 tablespoon of matcha tea (available in all good stores)
Method:
Firstly preheat the oven to 180 degrees.
Place the Cauliflower in a large bowl and drizzle in a little of the rapeseed oil and season with salt and lemon pepper and cook in the oven for 35 minutes.
Meanwhile heat the remaining rapeseed oil in a large pot, add the onion, garlic and dried tarragon stirring occasionally until soft.
Add stock and bring to the boil and simmer for 5 minutes.
Stir in the cauliflower (keep some back for garnish) and simmer for 10 minutes.
Blend with a hand blender until smooth. Stir in the double cream and season with salt and pepper (if the soup is too thick add a little water to it).
Transfer to bowls and serve with a few florets and sprinkle a little lemon pepper on top and garnish with a herb of choice.