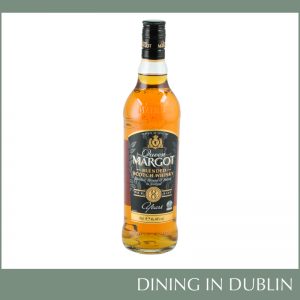 Lidls Queen Margot Blended Scotch Whiskey 40% was named one of the best scotch whiskeys in the world at the 2019 International Spirits Challenge. This blended Scotch Whiskey has been expertly created using traditional methods and only the finest ingredients. Mellowed for eight years in oak casks, this whiskey is smooth with a rich sweetness and depth of flavour, leaving a warm, lingering finish.
This award winning scotch whiskey is available in Lidls 160 stores nationwide for just €18.99.
Now in its 24th year, the International Spirits Challenge is the most prestigious event in promoting outstanding quality spirits from across the globe. With Lidls Queen Margot Blended Scotch Whiskey 40% winning Gold in the Scotch Blends 11 years and under category, along with an additional 9 silver and bronze awards, is a culmination of Lidls hard work and dedication in bringing great quality items at low prices to meet our customer needs.
Additional Silver and Bronze winning products included Dundalgan Irish 3 Year Whiskey, Deluxe Irish Chocolate Cream Liqueur, Wild Burrow Slow Distilled Irish Gin and Deluxe Irish Cream Liqueur to name just a few!
Full list of Lidl award winners:
| | | | |
| --- | --- | --- | --- |
| Medal | Product | Category | Sub Category |
| Gold | Queen Margot 8YO Blend Scotch whiskey | Scotch whiskey | Scotch Blends 11 years and under |
| Silver | Queen Margot 3YO Blended Scotch Whiskey | Scotch whiskey | Own Label Scotch Blends 11 years old and under |
| Silver | Dundalgan Special Reserve Charred Cask Irish Whiskey | Irish whiskey | Irish Blends Premium |
| Silver | Dundalgan Irish 3 Year Whiskey | Irish whiskey | Irish Blends Standard |
| Silver | Dundalgan 10 Year Old Single Malt Irish Whiskey | Irish whiskey | Irish Single Malts |
| Silver | Deluxe Irish Chocolate Cream Liqueur | Liqueurs | Liqueurs Irish Cream Dairy |
| Silver | Wild Burrow Slow Distilled London Dry Gin | Gin | Gin London Gin Premium |
| Bronze | Wild Burrow Slow Distilled Irish Gin | Gin | Gin Distilled Premium |
| Bronze | Deluxe Irish Cream Liqueur | Liqueurs | Liqueurs Irish Cream Dairy |
| Bronze | Dundalgan Irish Country Cream | Liqueurs | Liqueurs Irish Cream Dairy |