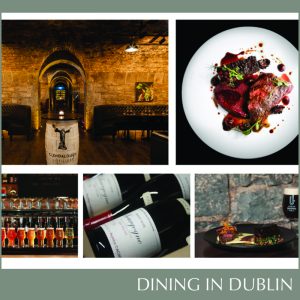 Stack A Restaurant is welcoming back its New Year's Eve Tasting Menu this year, which is specially designed to be paired with selected wines and beers, including Urban Brewing's own speciality seasonal brews.
The six course feast with matching beers or wines is available for one night only at one of Dublin's most unique venues, just a short stroll from the Custom House New Year's Festival. Stack A Restaurant offers the perfect setting to ring in the new year, catering for group celebrations or a more intimate dinner setting.
The menu reflects Stack A Restaurant's signature style of locally-sourced Irish ingredients with globally-inspired flavour combinations.
Head Chef Dan Keane said, "Our beer and wine tasting menu was extremely popular last year and we're excited to bring it back again this New Year's Eve. It will be different to last year as we have developed some exciting new beers and created innovative dishes to pair with and really enhance these brews. As always we are using locally sourced and seasonal ingredients in all of our dishes so you can expect something special for this menu."
Diners can expect items such as Salt Baked Celeriac, Celeriac mousse, Remoulade, Autumn Truffle and Lovage paired with Urban Brewing Bière de Table or 2016 Château Pesquié "Le Paradou", Viognier, France; Haunch of Glenmalure Venison, Red Cabbage, Puree, Spiced Wine, Bitter Chocolate, Blackberries and Chocolate Malt Bread paired with Urban Biere de Noel or 2005 Vina Tondonia Reserva, Tempranillo Blend, Rioja Alta, Spain; and Spiced Pumpkin, Pumpkin Mousse, Praline and O'Hara's Imperial Brulee paired with O'Hara's Barrell Aged Leann Folain or 2010 MF Richter Veldenzer Elisenberg Riesling Auslese, Mosel, Germany.
After dinner diners can savour the excitement of the Custom House New Years Festival  from Urban Brewing's heated and sheltered outdoor terrace, taking in the stunning views of Dublin city and the light show of the festival.
The New Year's Eve Tasting Menu costs €59 per person. There is a cost of €24 per person for accompanying beers, and €39 per person for accompanying wines. To book visit www.urbanbrewing.ie/new-years-eve or phone 01 568 5989.
Stack A Restaurant at Urban Brewing is located at Vault C, CHQ Building, Custom House Quay, IFSC, Dublin 1.
To keep up to date on the latest news follow Urban Brewing on social @ubrewingdublin, and Stack A Restaurant on Instagram @stack_a_restaurant  and Twitter @stack_a_dublin.
About Stack A Restaurant at Urban Brewing:
Stack A Restaurant at Urban Brewing is located in the underground vaults of the 200-year-old CHQ building, formerly known as 'Stack A', in the heart of the Dublin Docklands. An architectural masterpiece in its own right, Stack A Restaurant at Urban Brewing is a finer dining experience suited to both intimate small gatherings and large groups of up to 250 people. The layout of the vaults, each separated by centenary brick and stone walls, makes for an unrivalled atmosphere and setting. The restaurant offers an extensive lunch and dinner menu, as well as group menus which makes it the perfect venue for any occasion.
About Urban Brewing:
Urban Brewing was established in 2017 by O'Hara's Brewery, one of the pioneers of Irish craft brewing and now one of the largest craft breweries in Ireland. The Urban Brewing concept is unique and the first of its kind in Dublin. Urban Brewing encompasses, over three floors, a fully-functional microbrewery, two bars: Taps + Tapas and Vault Bar, and a 250-seater finer dining restaurant, Stack A Restaurant. Urban Brewing celebrates the rich history of the building, while also adding a contemporary urban twist. As well as a rotating selection of exclusive in-house brews and an extensive range from O'Hara's, Urban Brewing has a beer selection extending to more than 200 different choices, including some of the most unique and limited edition beers in the world. While beer is at the heart of Urban Brewing, the team also prides itself on its impressive menu of wine, spirits and cocktails. At Urban Brewing you can also experience the world of brewing on a Brewery Tour where you will learn about recipes, techniques and flavour combinations, as well as how to create the perfect match of beer and food. Urban Brewing caters for groups of up to 600, corporate and Christmas parties, weddings, and a wide variety of events.
About Urban Brewing Head Chef Dan Keane:
Dan Keane is the head chef at Urban Brewing with a style of food that emphasises quality Irish ingredients with global influences from his time travelling the world, with a particular passion for the social style of tapas. Dan has worked in award-winning kitchens in Ireland and abroad, bringing a vast knowledge of both Irish and international food. His love of local, seasonal ingredients, and his vast knowledge of international food have come together in Urban Brewing's innovative menus, which complement their house brews to create a unique dining experience.