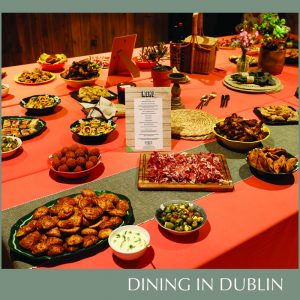 TV chef and M&S ambassador Mark Moriarty has been working with M&S to develop sensational summer dishes to be enjoyed – whether rain or shine. Mark worked with the finest of M&S' quality ingredients to create easy, delicious sharing nibbles to serve with your perfect pairing from the M&S Classics wine range.
Barbequed Lamb Shish with Chilli Jam, Hummus, Cous Cous and Pickled Red Onion
Serves 4
Ingredients:
8 Lamb shish kebab skewers
2 Tbsp vegetable oil
8 Tbsp M&S Chilli Jam
1 Container M&S Collection chickpea hummus
400g Giant cous cous
1 Lime
4 Tbsp olive oil
1 Tbsp M&S Concentrated Chicken Stock
4 Tbsp M&S Pickled Red Onion
1 Pack Cook with M&S Coriander
Method:
Begin by cooking the giant cous cous. Place the cous cous in a pot and cover with double the amount of water. Add the chicken stock paste and slowly bring to the boil. Cook for 15-18 minutes until the cous cous is soft. Strain and dress with some vegetable oil to stop it sticking. Leave to cool.
Dress the chilled cous cous in the olive oil and season with salt and pepper. Fold through the pickled red onion and rip the coriander leaves over the top. Finish with the zest and juice of a lime.
Heat the BBQ before cooking the kebabs for 2 mins on all sides. Remember to remove the sticks if cooking over an open flame.
To plate up, place a spoonful of the hummus in the bottom of the bowl, top with the dressed cous cous and the BBQ'd shish kebabs
Finish with the chilli jam, and some more ripped coriander
Top tip: Pair this with M&S Classics Cabernet Sauvignon.
Grilled Herby Halloumi, Pea and Feta Salad, Garlic and Herb Sauce
Serves 4
Ingredients:
8 Herby halloumi skewers
1 Bag M&S Frozen Peas
50g M&S Feta Cheese block
4 Tbsp olive oil
1 Lemon
4 Tbsp M&S Garlic and Herb Sauce
1 Packet Cook with M&S Mint
Method:
Start with the pea and feta salad. Take the peas out of the freezer in advance to defrost. Drain any excess water before placing in a bowl. Crumble the feta into the bowl and season with the olive oil, M&S Garlic and Herb Sauce, the juice and zest of half a lemon and some hand ripped mint leaves. Adjust the seasoning with salt before placing the dressed salad into bowls.
Heat the BBQ before cooking the halloumi skewers very quickly on all sides until lightly charred and just melting.
Serve these on top of the salad with a little more ripped mint.
Top tip: Pair this with M&S Classics New Zealand Sauvignon.