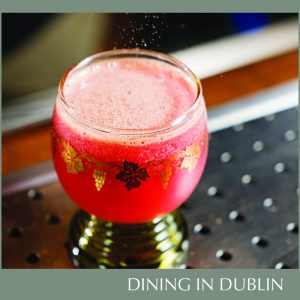 'Grinning Beggar' FT. Don Julio Blanco
 Mark Cooney of the NolaClan Group, Diageo Reserve's World Class Ireland Bartender of the Year 2022 has created a crisp, tequila-based cocktail. The drink wowed the World Class judges with its innovative use of ingredients to combine perfectly contrasting flavours. This cocktail could make tequila the drink of the Summer. 
Ingredients
5ml Don Julio Blanco
30ml Masala Syrup
25ml Purple Carrot Juice
15ml Lime juice
Atomized Toasted Sesame Tincture
Grated Cinnamon
Method
Place all ingredients in a shaker aside from grated cinnamon and sesame aroma.
Add ice and shake.
Double strain into a coup glass.
Atomize sesame seed aroma.
Grate fresh cinnamon on top.
About Don Julio Blanco:
Don Julio® Blanco Tequila is the base from which all of our other variants are derived. Commonly referred to as "silver" tequila, its crisp agave flavour and hints of citrus make it an essential component to a variety of innovative drinks including margaritas. It can also be enjoyed neat or on the rocks. 100% blue agave plant. Using the finest blue agave plant and a time honoured distillation process, Don Julio® Blanco Tequila is tequila in its truest form.
ABOUT DIAGEO RESERVE WORLD CLASS™
DIAGEO RESERVE WORLD CLASS™ is transforming fine drinking experiences and cocktail culture around the world and in the home. The industry's largest, most credible investment in the luxury on trade, it discovers the next generation of bartending talent who set the latest mixology trends and bring these to the best bars worldwide.
At the core is an outstanding, global training programme and internationally recognised platform that elevates the craft of the bartender and builds careers in the industry culminating in an annual luxury landmark week where the DIAGEO RESERVE WORLD CLASS™ Bartender of the Year is announced. Launched in 2009, over 15,000 bartenders have been inspired and educated in the craft of mixology using the finest spirits in the DIAGEO RESERVE collection. 
A partnership and collaboration with gurus, media, partners and owners, DIAGEO RESERVE WORLD CLASS™ is widely recognised as a mark of sophistication and distinction of international fine drinking culture by bartenders and customers alike.