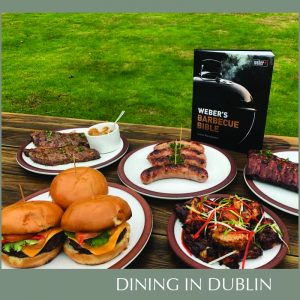 The first 160 customers to buy one will receive a complimentary Weber BBQ Bible Cookbook
To celebrate the August Bank Holiday Weekend, Weber have teamed up with premium Irish meat butcher, F.X Buckley to offer customers a barbecue hamper filled with the best produce from several key Irish suppliers. Each pack contains locally sourced fresh cuts of meat from F.X Buckley Butchers, delicious Brioche Buns from Walsh's Bakehouse, Co Waterford and essential burger and peppered steak sauce from Spice O'Life, West Cork.
Available now from their Nutgrove and Deansgrange store as well on their website, this barbecue pack is incredible value and is priced at €29.99. To top off this special offer, the first 160 customers to buy one will receive a complimentary Weber BBQ Bible Cookbook worth €30.
Aimed at meat-lovers and barbecue-lovers alike, customers will receive the following:
2 x oz Dry Aged Striploin Steaks
1 x Rack of Smokey BBQ Pork Ribs, 500g
3 x 6oz Rib Eye Burgers
BBQ Chicken Wings, 500g
4 x Large Jumbo Buckley's Sausages, 500g
3 x Walsh's Bakehouse Luxury Brioche Buns
Spice O'Life Peppered Sauce, 100g
Spice O'Life Burger Sauce, 100g
The Buckley Family has achieved legendary status in Dublin over the last six generations – originally as butchers and purveyors of the finest quality meats, and subsequently as operators of some of the nation's favourite steakhouses, gastropubs and bars. Combining this with Weber's foundation in perfecting BBQs since 1952, with their superior know-how, unique range of products and enthusiasm for all things 'Weber', each brand's passion for fresh cooking and love of food is brought into this barbecue pack. 
Weber x F.X Buckley Butchers barbecue pack is now available in F.X Buckley Butchers located Nutgrove and Deansgrange and is also available to order from their website. This offer is only available while stocks last.
@weber_uk
@f.x.buckleybutchers
Weber hero products include; SmokeFire Wood Fired Pellet Grill, Weber Connect, Master-Touch Premium, Pulse, Genesis II E-310, Sprit II, Smokey Joe and Go-Anywhere. For a full list of Weber Barbecues, specifications and pricing, visit www.weber.com/IE
About Weber:
We have been celebrating perfect BBQs since 1952 with our superior know-how, unique range of products and our enthusiasm for all things 'Weber'. We are the original BBQ brand, no other barbecue manufacturer can boast such a wealth of experience and knowledge as Weber. In the same way we invented the kettle barbecue in Chicago from a simple marine buoy, we continue to develop the whole world of barbecuing bit by bit every day.
As one of the world's leading providers with the most comprehensive range of quality products and services in the industry, today Weber is Internationally synonymous with barbecuing innovation, perfect barbecue products and the ultimate barbecue experience. With offices in over 40 countries on all continents, we continue to promote the Weber BBQ culture around the world.
Visit www.weber.com/IE