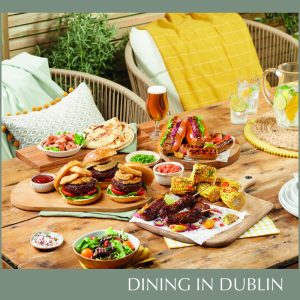 Mouthwatering Bord Bia Quality Assured Irish beef burgers, chicken wings and more – available now in ALDI! 
With temperatures skyrocketing in recent weeks, there has never been a better time to fire up the BBQ and whip up an outdoor feast. At ALDI, you will find a top-notch selection of Bord Bia Quality Assured 100% Irish Meat that will ensure your BBQ spread is un-grill-ievable! From mouthwatering Irish beef burgers and saucy chicken wings to marinated steaks and succulent lamb kebabs, ALDI has everything you need to enjoy a stunning sunshine feast.
Craving a juicy burger? You're spoiled for choice in ALDI where you'll find a whopper selection of Bord Bia Quality Assured 100% Irish beef burgers tailor-made for backyard BBQs. For a classic crowd pleaser, look no further than the perfectly seasoned and wonderfully tenderSpecially Selected Irish Black Angus Beef Burgers €2.49. Pick up the Specially Selected Tipperary Dry Aged Black Angus Rib Steak Burger €3.99 and discover why it was a recipient of the Superior Taste Award at the prestigious International Taste Awards.
For those who prefer their burgers lean and mean, there's the Irish 5% Fat Beef Burgers €3.99 flavoured with Chipotle Chilli Seasoning or Smoked Paprika & Cracked Black Pepper. They may only contain 5% fat but they're 100% delicious and like all ALDI's impressive selection of fresh meats, they are Bord Bia Quality Assured and 100% Irish.
Feeling adventurous? Try the Irish Black Angus 6oz Beef Burgers with Bacon and Creamy Cheese €3.99. Wrapped in dry cured streaky bacon and topped with a creamy cheese melt, this bacon cheeseburger is a recipe for success. For those who can handle the heat, the Irish Black Angus 6oz Beef Burgers with Bacon, Monterey Jack Cheese & Jalapeno €3.99 is a fiery favourite.
ALDI is also home to a cracking range of Bord Bia Quality Assured 100% Irish chicken products so don't just wing it – get your hands dirty and dig into richly flavoured Irish Chicken Wings €2.79 at your nearest ALDI store. Chow down on delicious Irish Chicken Burgers €3.49.Enjoy Irish Chicken Thigh Kebabs €3.49 soaked in a hot and spicy glaze – perfect for serving with salads, potato wedges and more!
Fancy an alternative to burgers and chicken? Whip up a Bord Bia Quality Assured 100% Irish steak in double-quick time with deliciously marinated Irish 30-Day Matured Quick Fry Steaks€3.69. For a protein-rich dinner option, try Irish Fresh Turkey Burger €3.95. Create a Middle Eastern-inspired feast with Irish Lamb Koftas €4.49 and Irish Lamb Kebabs €4.79.
With quality Irish produce at unbeatable prices, ALDI is on hand to help make this an amazing summer. See below for a full list of BBQ products available now in ALDI stores nationwide:
Bramwells Tomato Ketchup €0.78 (650g)
Bramwells Real Mayonnaise €0.89 (500ml)
Bramwells South Carolina Style Mustard Sauce €0.99 (320g)
Roasted Garlic Mayo €0.99 (250ml)
Peri-Peri Mayonnaise €0.99 (250ml)
Specially Selected 4 Brioche Burger Buns €1.39 (200g) 
Specially Selected Irish Black Angus Beef Burgers €2.49 (280g)
Irish Marinated Chicken Wings €2.79 (500g) Choose from Chilli, Peppers & Garlic or Piri Piri Marinade
Irish Marinated Chicken Drumsticks €2.85 (500g) Available in Tennessee BBQ Flavour or Chinese Marinade
Irish Beef Quarter Pounders €3.49 (454g) Choose from Fiery Habanero Chilli Seasoning or Smoky BBQ Style Seasoning
Irish Chicken Burgers €3.49 Choose from Cajun (400g) or Plain (454g)
Irish Seasoned Chicken Burgers €3.49 (400g) Choose from Smoky BBQ Flavour or Asian Style Sticky Ginger Glaze flavour
Irish Chicken Mini Fillet Skewers €3.49 (300g) Choose from Margarita Style or Spicy Korean Style
Irish Chicken Thigh Kebabs €3.49 (350g) Choose from Spicy Mexican Style or Spicy Buttermilk Sriracha
Irish Chuck and Brisket Burger with Caramelized Onion Seasoning €3.49 (340g) 
Irish Black Angus Reduced Fat 6oz Beef Burgers €3.59 (340g)
Irish Marinated Boneless Chicken Thigh Fillets €3.79 (500g) Choose from Spicy Jalapeno or Lemon & Pepper
Irish 30-Day Matured Quick Fry Steaks €3.69 (360g) Choose from Tennessee Style BBQ Glaze or Oak Smoked Sea Salt & Fiery Chilli Glaze
Specially Selected Irish Black Angus Ultimate 8oz Beef Burgers €3.69 (454g) 
Irish Quick Cook Chicken Fillets €3.79 (305g) Choose from Garlic & Herb, Piri Piri or Smoked Chipotle
Irish Fresh Turkey Burger €3.95 (400g)
Irish 5% Fat Beef Burgers €3.99 (454g) Choose from Chipotle Chilli Seasoning or Smoked Paprika & Cracked Black Pepper
Irish Black Angus 6oz Beef Burgers with Bacon and Creamy Cheese €3.99 (460g)
Irish Black Angus 6oz Beef Burgers with Bacon, Monterey Jack Cheese & Jalapeno €3.99 (460g)
Specially Selected Tipperary Dry Aged Black Angus Rib Steak Burger €3.99 (227g)
Irish Lamb Koftas €4.49 (380g) Choose from Moroccan or Tandoori
Irish Lamb Kebabs €4.79 (300g) Choose from Coriander, Chili & Lime or Chimichurri