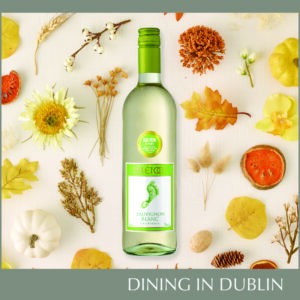 Let's Get Barefoot With One of the Most Awarded Wines in the World 
Make sweater weather even better with Barefoot Wine this season, the Number 1 USA Wine brand in Ireland.
Whether planning an autumnal or festive feast, a wine-tastic tasting or whipping up spooky and seasonal cocktails for Halloween and Christmas, Barefoot Wine has got you covered with the ultimate food matching guide for you and all your friends!
Add flair to all your sweater weather hang-outs with Barefoot Red, Barefoot White and Barefoot Pink. Match citrus to citrus, sweet to sweet or take the edge off and pair sweet wine with spicy dishes. It's ultimately down to your taste buds! 
The ULTIMATE BAREFOOT WINE FOOD MATCHING GUIDE – THE REDS, THE WHITES, THE PINK!
THE REDS (DRY TO SWEET)
When picking spices and seasonings as well as food and wine pairing, red wine prefers rich flavours!
Barefoot Cabernet Sauvignon
Traditional in taste, this big red has bold flavours. The Cabernet Sauvignon is best paired with foods that compliment strong flavours. Beef, lamb, rib eye or other red meats are good wine pairings. Enjoy with a meze of hard cheese such as cheddar, smoked, cured meats, as well as tomato pasta dishes, broccoli and even cheeseburgers.
Barefoot Malbec
Traditional Malbec is dry with a jammy taste, similar to Cabernet Sauvignon. This plush wine is full and gorgeous, bursting with characteristics of thick juicy blackberries, currants and caramel. You'll notice a hint of toasted oak which means it'll compliment smoked meats as well as caramelized onion. Rich mushroom pasta, red meats, pulled pork, bbq ribs, salsa and strong Stilton are great foods to pair with Malbec!
Barefoot Merlot
You'll find merlot to be one of the sweeter red wines while still being typically mild. Enjoy the warm chocolatey, mocha finish with a smoky vanilla-oak aftertone. A medium merlot is the most versatile out of the reds and can be paired nicely with all red, smoked and cured meats. Merlot can also complement swordfish, grilled tuna, roasted chestnuts and all poultry.
THE WHITES (DRY TO SWEET)
A dry white will love tasty citrus notes like sharp sorbet or lemon meringue pie, while sweet wine is best matched with banana bread, apple pie and caramel.For a sweeter glass choose a spice to contrast, like ginger or rosemary. 
Barefoot Sauvignon Blanc
Fresh flavours like green vegetables, crisp apples, citrus fruits as well as potatoes, pasta and even chips all go well with Sauvignon Blanc. Enjoy a chilled glass with roasted turkey, smoked fish like salmon, salty oysters and feta or goat's cheese salad.
Barefoot Buttery Chardonnay
 Fruity in taste, Chardonnay is the perfect addition to meals which include soft and hard cheese, chicken, pork, salmon, shellfish and potatoes. Enjoy chardonnay with creamy pastas, roasted veg and hearty lasagne.
Barefoot Chardonnay
Fruity in taste, Chardonnay is the perfect addition to meals which include soft and hard cheese, chicken, pork, salmon, shellfish and potatoes. Enjoy chardonnay with creamy pastas, roasted veg and hearty lasagne.  
Barefoot Pinot Grigio
Light-bodied and floral, Pinot Grigio is one of the sweeter white wines. You'll be able to taste the tart green apple, fruity citrus and peachy undertones. Fish and white meats are great food pairings for Pinot Grigio. Enjoy with poultry, spicy pasta, cheese pizza and green veg.
THE PINK (SWEET)
Rosé wine is often fruity and sweeter than red and white. This is why, when choosing wine pairing food, a taming rosé can take on strong flavours. If seasoning, choose cumin, chilli, paprika or tarragon. 
Barefoot White Zinfandel
Enjoy a glass with spicy tandoori Indian and Asian food, along with salty bacon, grapes, mild cheese and cured meat. Most seafood and shellfish can also be paired with the sweetness of White Zinfandel.For those with a sweet tooth, you're options are endless. Enjoy a glass paired with Eton Mess, strawberry trifle, apple crumble, caramel, sticky toffee pudding and currant buns.
The Barefoot Wine range includes Barefoot Moscato, Barefoot Cabernet Sauvignon, Barefoot Malbec, Barefoot Chardonnay, Barefoot Pink Pinot Grigio, Barefoot Buttery Chardonnay andBarefoot Pink Moscato alongside Barefoot Pinot Grigio, Barefoot Sauvignon Blanc, Barefoot Merlot and Barefoot White Zinfandel. Packed with big flavours and gorgeous aromas – there's plenty to choose from!
Barefoot Wine is available from all good stockists, RRP €10.50.
For More Information:
https://www.facebook.com/barefootwineuk
https://www.instagram.com/barefootwineuk/
https://www.pinterest.com/barefootwine/
About Barefoot Wine & Bubbly:
Barefoot Wine & Bubbly started up in California in the 1960s. Its founders believed that wine should be more fun and less serious; and created a wine that could be enjoyed by everyone from first-time wine drinkers to hard-core aficionados. Barefoot is the most awarded and No. 1 wine brand in the US and was introduced to the UK in 2009. The one thing the brand is serious about is making good wine and it has won over 2,000 awards for its range of wines worldwide. Staying true to its grassroots beginnings, Barefoot Wine & Bubbly gives back to local non-profit groups through charitable wine donations. Barefoot has also been an ally to the LGBT community for over 30 years!