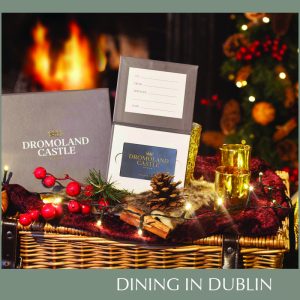 Enjoy a special taste of Dromoland Castle at home this festive season!
Make way for a special Dromoland Delivery!
Looking to gift a special someone to a taste of luxury this Christmas? Let them enjoy a five-star experience from the comfort of their own home with Dromoland Castle's range of Christmas gifts available from the Dromoland Castle Online Shop.
From the Dromoland Castle Box, packed full of luxurious favourites from the Dromoland Estate to the Dromoland Castle Signature Candles, crafted using the most exquisite and luxurious aromatics in the world including oud, rose oil, and precious sandalwood and not forgetting the Tarot Card Collection, 22 of the most exceptional cocktails delivered in a box of Tarot Cards with hand paintings depicting scenes from all over the Castle and Estate, the Dromoland Castle Online Shop has a little bit of luxury for everyone this Christmas.
Enjoy the flavours of the Castle kitchen from the comfort of home this Christmas with a Dromoland Castle Plum Pudding or why not try some much-loved Dromoland Castle recipes. To mark Dromoland's 50-year anniversary, Executive Chef David McCann has written the Dromoland Castle Cookbook, a collection of some of his favourite recipes that he uses in the Castle kitchens, the perfect gift for the foodie in your life!
For more information on Christmas Gifting available at Dromoland Castle, visit www.dromoland.ie or call (061) 346 7007