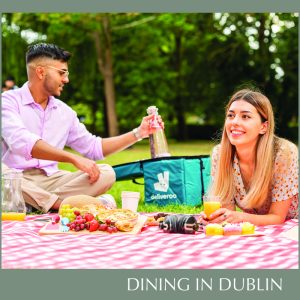 Deliveroo survey reveals that since early June, when restrictions allowed, 64% of respondents met family and friends to dine outdoors
As things really start to get back to normal, we mustn't forget to enjoy the summer while it's still here – the one thing we do know is that the good weather is most definitely not here to stay.  So to make hay, Deliveroo has set up a new Summer Bundles option on the app where customers can order their summer picnic, back garden dinner party, or double date at home. Within a few clicks punters will be able to order a meal big enough for 4-6 people and get money off at the same time. Summer Bundles offer tons of tantalising food combinations at affordable prices, starting as low as  €38.99. Winning.
In honour of the launch of Summer Bundles, Deliveroo surveyed 500 Irish customers to gain an insight into their attitudes to outdoor dining. Since early June, when restrictions allowed, 64% of respondents met family and friends to dine outdoors. Despite a willingness to embrace alfresco dining, over half of those surveyed (55%) strongly believe that there should be better facilities to allow people to eat outdoors in Ireland. With the right measures in place 29% of respondents strongly agreed that they would even eat outdoors during the depths of winter – with 39% somewhat agreeing that they would brave the weather if correct measures were put in place.
It is clear that Ireland is still keen to embrace outdoor dining and Deliveroo's Summer Bundles lets them do just that.  At Sano Pizza, you can add some fun to your evening with the make at home pizza kits.  Get everybody cooking the signature Sano dough mozzarella di bufala and tomato sugo – the rest of the toppings are your choice.  If you're not in the mood to get creative, you will not be disappointed with the Sano Pizza Specials with toppings such as aubergine and gorgonzola or asparagus, speck and pecorino, to name a few. Mamma mia!
What better way to share than over falafel with friends from Umi Falafel. Sample this Middle Eastern cuisine whether its a Lebanese falafel sandwich, a Mezze plate, or a tabouleh salad, there's lots to ooh and ahh over.  The best hummus and couscous this side of the Black Sea!
"Thriller sandwich filler made from plants" is the latest innovation from The Vegan Sandwich Co. Delectable roast chick*n piece and bac*n strips that can be cooked up at home to fill your sambo, or add to your favourite outdoor dinner date dishes.  Alternatively choose from the delicious menu of sandwiches, burgers, kebabs or baguettes ranging from a traditional (but plant based) club sandwich to a vegan doner with garlic mayo and sriracha in a toasted flatbread.  Add a park bench and a back up brolly, and your lunch with your colleagues is ready to serve!
The aim of this restaurant is to recreate the authentic flavours of one of the oldest cities in China, which also bestows its name, Xian Street Food on the unique eatery.  If you're after an authentic Chinese experience Xian is where it's at. Be it the mouthwatering Xian ramen soup, or the Roujiamo, dating back to the Zhou dynasty which existed 2,500 years ago and is (possibly) the world's first burger, this is a real taste of the Orient.
Melted feta cheese wrapped in filo pastry? Greek style lamb kebab with tzatziki? Falafel and hummus with beetroot vegan mayo in a wrap?  Mmmm mm!  Yes please.  You may not be able to get to  a Greek island just yet, but you can certainly conjure up the taste at  Yeeros.  This absolutely delicious cuisine is authentically recreated in Drumcondra and can be at your chosen spot in mere minutes to help you create your own holiday island.
Sano, 1-2 Exchange Street Upper, Temple Bar, D08XW7D
Umi Falafel, 13 Dame Street, Dublin 2, D02HX67
Vegan Sandwich Co, 6 queen Street, Smithfield, D03F76k
Xian Street Food, 28 South Anne Street, Dublin D02DX39
Yeeros, 19 Prospect Road, Drumcondra, Dublin D09
Contents and pricing of Summer Bundles are as follows:
Sano Summer Bundle is priced at €50 and contains:
1 x Marinated Olives
1 x Antipasto (Meat, Vegetable or Caprese)
1 x House Salad
2 x Pizzas (excluding specials)
4 x Cannoli OR 1 x Nutella Pizza"
Umi Falafel Summer Bundle is priced at  €38.99 and contains:
4 x sandwiches
Choice of a Salad
Hummus
Stuffed Vine Leaves
1x Batata Hara
Spinach Filo Rolls
Vegan Sandwich Co. Summer Bundle is priced at €48 and contains:
2 x BLT Sandwiches
2 x Chick*n & Stuffing Sandwiches
4 x Crisps (option to change to cookies for €4)
4 x Drinks
Xian Street Food Summer Bundle is priced at €38.99 and contains:
4 x Noodle boxes
1 x Spice bag with 2 Dips of choice
2 x Pan fried dumplings
Delivery and service fees apply.
About Deliveroo
Deliveroo launched in Ireland in 2015, and currently works with more than 1,000 self-employed riders and more than 1,800 restaurants across Dublin, Cork, Limerick and Galway. Deliveroo was founded in 2013 in London and operates in over 800 towns and cities across 12 markets: Australia, Belgium, France, Hong Kong, Italy, Ireland, the Netherlands, Singapore, Spain, United Arab Emirates, Kuwait and the United Kingdom.
Internationally, Deliveroo works with over 140,000 best-loved restaurants and takeaways, as well as 110,000 riders to provide the best food delivery experience in the world.  Deliveroo is headquartered in London, with around 2,000 employees in offices around the globe.