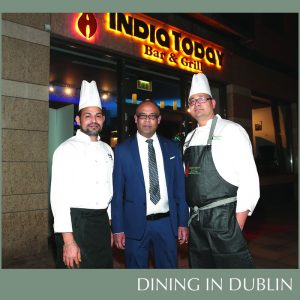 The Launch of INDIA TODAY BAR & GRILL on Golden Lane took place Tuesday, December 3 with the Indian Ambassador Mr Sandeep Kumar and Counsellor Mr Somnath Chatterjee in attendance. Guests were treated to a fabulous array of Indian Dishes, Cocktails and Wine. Dishes were created by renowned Chef Manish Kumar Sharma who wanted to showcase a contemporary reflection of the eclectic and diverse history of Indian cuisine.
About INDIA TODAY:
India Today endeavours to source as much locally produced food where possible.
Our patrons' confidence in INDIA TODAY's food is paramount, and with this in mind, we offer full traceability on all produce.
INDIA TODAY is committed to offering traditional, fresh Indian food; thereby no artificial flavours, food colorants and / or preservatives are used in our dishes.
In consultation with the chefs, the menu at INDIA TODAY will be changed every quarter – thus giving consumers a varied and enjoyable experience of the many regional dishes from around India.
Castle Way, Golden Lane, Dublin 8
Tel: 445 9325