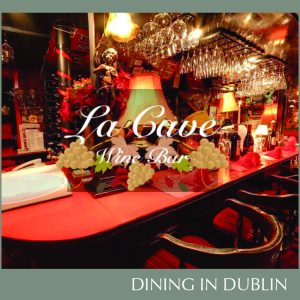 La Cave Wine Bar and Restaurant are now taking bookings for reopening on the 5th of July & Wine Tastings in mid August.
Check availability and book online here: https://eu.getseat.net?channel=merchant_web#/public/online/reservation/8EDB3227
About La Cave Wine Bar and Restaurant
We are Dublin's oldest and original Wine Bar. Relax in a cosmopolitan and vibrant atmosphere and enjoy excellent gourmet cuisine at an affordable price. We have over 350 wines from House to Krug and an amazing 40 wines by the glass. Whether you're simply getting to know wines or eager to expand your appreciation, we have experts on hand to guide you.
Whether you are a trade professional seeking to expand your existing knowledge, a casual enthusiast curious to learn more or a fun loving group seeking a new way to enjoy a night out, we have it all here at La Cave Wine School.
We offer weekly wine courses, WSET approved courses and tailor-made tasting evenings at Dublin's original Wine Bar.
 28 South Anne Street,