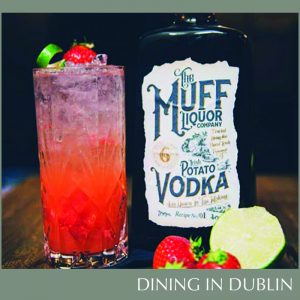 The Muff Liquor Company is a premium craft potato-based spirit company hailing from the village of Muff, County Donegal Ireland. Its products include new spirits, Muff Gin and Muff Vodka which are produced with a potato base made from four different types of Irish potatoes, distilled 6 times, to create a clean and creamy texture and both spirits are gluten free and suitable for vegans.
The use of potato spirit was inspired by founder Laura Bonner's grandfather, who was a well-known Irish potato farmer with a penchant for making his own poitín.
THE MUFF MAN 
INGREDIENTS
50ml Muff Gin
25ml Elderflower Syrup
25ml Lime Juice
4/5 Mint Leaves
Top with a splash of tonic
Sprig of rosemary and lime wheel garnish
METHOD
Add 50ml Muff Gin to a shaker, followed by 25ml of Elderflower syrup.
Squeeze the contents of half a lime to the mixture and shake vigorously.
Add crushed ice and mint leaves to a glass and add the contents of the shaker.
Top it up with your favourite tonic and garnish with a sprig of aromatic rosemary and a zesty lime wheel.
IRISH STRAWBERRY CAIPIROSKA
INGREDIENTS
50ml Muff Vodka
4/5 Lime wedges
2/3 Strawberries
25ml Sugar Syrup
Lime wedge and strawberry garnish
METHOD
Using a container separate to your glass, muddle 2-3 strawberries together with 25ml sugar syrup.
Squeeze in lime and mix further.
Add mixture and 50ml Muff Vodka to a shaker with ice.
Shake and when satisfied, add to a chilled glass.
Garnish with a lime wedge and half strawberry.
THE BUNKER
INGREDIENTS
40ml Muff Gin
10ml Marachino Liqueur
25ml Sugar
25ml Pink Grapefruit
25ml Lime Juice
Golf ball chewing gum garnish and brown sugar rim
METHOD
Using your chosen gin glass, add a brown sugar rim and fill with ice.
Add 40ml MuffGin and 10ml Marachino Liqueur to a shaker, followed by the juice from half of a pink grapefruit and a squeeze of lime.
Shake vigorously and serve over ice, adding a decorative golf ball chewing gum to garnish.
Et voila! A cocktail that Tiger Woods would be proud of.