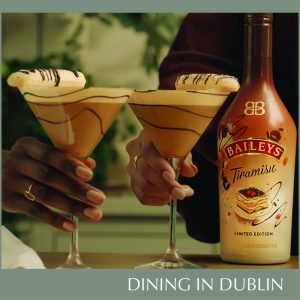 Celebrate your sweet tooth and indulge in the best part of any meal – the dessert, obviously – with New Baileys Tiramisu Cocktail. Introducing your favourite dessert in drink form with our fantastically delicious new flavour, the perfect way to spoil yourself. Delectably creamy, smooth coffee notes blended with rich cocoa and your favourite Baileys Original Irish Cream.
Enjoy over ice or ice cream, drizzle over your favourite dessert, or take indulgence to the next level as a wonderfully indulgent Tiramisu.
Unleash your inner mixologist and get together with friends for a dinner party that's all about delicious indulgence. Let's shake up dessert with Baileys Tiramisu Cocktail!
Baileys Tiramisu Cocktail combines all the best flavours from the most indulgent dessert. Deliciously rich and creamy coffee is swirled with decadent cocoa flavours, topped off with just a hint of vanilla and expertly blended with your favourite Baileys Original Irish Cream.
Dessert this good doesn't need to be reserved for after a meal! Make the best part the main part and shake up dessert with a new, indulgent Baileys Tiramisu Cocktail. Enjoy simply splashed over ice, swirl it into ice cream, drizzle over dessert, or treat yourself with a mouth-watering Tiramisu cocktail.
The limited-edition Baileys Tiramisu Cocktail Liqueur is available now exclusively at SuperValu and Centra stores nationwide. Baileys Tiramisu Cocktail will be available for a limited time until stocks last.
TIRAMISU WITH A TWIST COCKTAIL RECIPE
Ingredients:
50ml Baileys Tiramisu Cocktail
25ml Smirnoff Vodka
Ice
Garnish:
Cocoa powder
Wafer
Method:
Shake 50ml Baileys Tiramisu Cocktail, 25ml Smirnoff Vodka and Ice in a cocktail shaker.
Garnish with a sprinkle of cocoa dust and a wafer.
Sit back, sip, and enjoy!
@baileysofficial
#BaileysTiramisu
Enjoy Baileys Sensibly. Visit www.drinkaware.ie