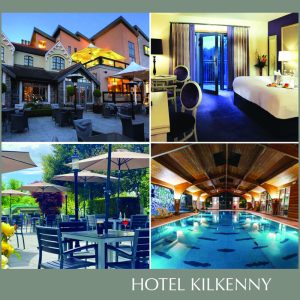 Kilkenny is an amazing city to visit – steeped in history, great for shopping and there's so much to see and do. We headed off happily for a three day stay at the Hotel Kilkenny – a stylish 4 Star Hotel and the ideal base from which to explore all Kilkenny has to offer.
Check in was quick and efficient and we were in our lovely, spacious room within minutes and delighted to find a welcome dish of Butlers chocolates – we were off to a good start! The bathroom was spotless, fluffy robes and slippers were provided as were a plentiful supply of tea, coffee, biscuits and bottled water. For those travelling with teens the hotel Wi-Fi is instantly accessible and speedy! As I was holidaying with my son the 20m swimming pool was one of the big attractions of the hotel. We had booked in ahead of our arrival and were delighted to see that the pool wasn't busy. The pool itself is in a lovely light and airy space, the changing rooms warm and spotless and a very warm welcome on arrival. A few minutes in the sauna after a swim was the perfect way to relax before dinner
We had dinner on the first night in Taste Restaurant in the hotel. Tables are very well spaced with hand sanitizer on arrival and at the table too. I have to admit that it felt great to be eating inside and it was equally lovely to see people getting together and enjoying their evening. The menu offers great variety to suit all tastes. The bar menu was provided for my fussy teenager without any bother. Dinner was delicious – prawns to start and then duck for mains. Portions were very generous – there was sadly no room for dessert!
Breakfast is served 7-10am and although it is noted that there might be a wait at certain times it was never an issue for us – even at the popular 9.30 slot. A warm welcome again at breakfast where you are shown to your table and a menu is provided – this absolutely beats the pre Covid rush for the buffet and piling of plates pre-Covid. You can't beat a good old fry up but there's a continental breakfast on offer and of course pancakes and Nutella – always a hit with the kids. The ever helpful staff are happy to provide second cups of coffee, more toast, fruit etc.
On our second evening we had dinner in Pure Bar – this is more casual but the menu still reflects the finest in locally sourced dishes as Hotel Kilkenny is committed to supporting local food producers. The interior of the bar is beautifully decorated and there is also a very pretty outdoor dining area The Orchard Garden. I had to select the prawns again as they had been so good the night before! I didn't want to miss dessert so ordered an Irish cheese plate. We were heading back to our room to watch some Netflix (well I am holidaying with a teen!) and the waiter kindly offered to wrap up my cheese to take back with me which was most welcome!
The overall atmosphere in the hotel was very relaxed – the staff were especially welcoming and this was something I really noticed both in the hotel and in Kilkenny, people are so happy to have visitors back – to welcome them into their hotel, restaurant, shops and museums. There was a lovely buzz in Kilkenny city but without the throngs of visitors I imagine they are used to having at this time of the year.
Hotel Kilkenny has ample parking and is just a 10 minute stroll to Kilkenny Castle, in the heart of the town. Situated along the banks of the river Nore and with beautiful gardens, it is a magnificent castle dating back to the 12th Century and has an incredible history. Admission is free of charge until the end of the year but tickets must be bought online – https://kilkennycastle.ie/ The tour of the castle is one of the best I've taken in terms of a beautiful place to visit combined with super knowledge and enthusiasm of the tour guides.
Just down the road is the Medieval Mile Museum – another fabulous place to visit! We were met there by an incredibly knowledgeable and friendly gent called John who took the time to tell us what the museum had to offer and impart much of the history of Kilkenny and how it has retained so much of it's historical buildings so well. Very early in it's history William Marshall, a landless knight, became one of the wealthiest men in Ireland due to marrying Strongbow's daughter Isabel. They settled in Kilkenny and began to restore the town encouraging merchants to live there. Kilkenny began to thrive and due to this prosperity these wealthy merchants were able to bribe not one, but three invading armies not to invade the town over the years! And so, Kilkenny retains so much of its rich history. The Medieval Mile Museum leads you through this history with an audio tour and there's a Lego figure hunt as you progress through the museum to keep the kiddies on their toes! https://www.medievalmilemuseum.ie/
I would also highly recommend Rothe House (again on the same road – Kilkenny is so accessible and easy to navigate) Once the home of a wealthy merchant in the 1590's and beautifully restored as such, it is a wonderful glimpse into how this amazing city prospered. The gardens are particularly wonderful and are laid out as they would have been, including all the vegetables and herbs that would have been grown in the kitchen garden. It is hard to believe that you are on the Main Street of a bustling town when you visit this house! http://rothehouse.com/
We also visited the two beautiful cathedrals – St. Mary's (The Catholic Cathedral) and St. Canices (The Church of Ireland Cathedral) which also has a Round Tower and is one of only two Round Towers that people can climb in Ireland – both lovely spots for a little quiet reflection. There is so much to see and do in this great city – we had three days but could easily have taken a week to explore Kilkenny and its environs. The historical aspect appeals so much to me but it's a fantastic place for shoppers with lots of little boutiques and many quirky shops. What impressed me most was the friendliness of the people, always happy to help and there's always time for a chat! There is much to do outside of the town of course and you'll get all the info you need here: https://visitkilkenny.ie/
Hotel Kilkenny is a perfect spot in which to relax – once we had parked the car on our arrival there was no need to use it until it was time to go home. We looked forward to our return to the hotel every evening to enjoy the pool and have a leisurely dinner. Propped up by a traditional Irish 'fry' we'd take the short stroll into Kilkenny and relish being tourists for the day!
There are many wonderful getaways available at Hotel Kilkenny.
Check them out, book direct & save https://secure.hotelkilkenny.ie/bookings/specials
Hotel Kilkenny,
College Road,
Kilkenny
T: +353 (0)56 776 2000
F: +353 (0)56 776 5984
E: experience@hotelkilkenny.ie