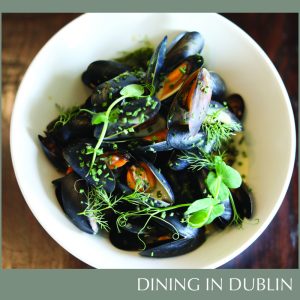 Recipes created by the Culinary team at the Guinness Storehouse, to be recreated and enjoyed at home.
This recipe makes 6 portions
Ingredients;
1kg fresh Irish Mussels, clean the shells
300 ml. cream
200 ml. fish stock
330 ml. GUINNESS® Extra Stout (small bottle)
1 bay leaf
Knob of butter
1 tablespoon of chopped fresh dill
1diced onion
1diced carrot
1diced celery
Juice of half lemon
Method;
Place the butter, onion, carrot & celery in a saucepan at medium heat.
Fry for to 2-3 minutes, being careful not colour.
Add the GUINNESS® Extra Stout, fish stock and bay leaf. Simmer until reduced by half.
Add the cream & simmer until reduce by half again.
Add the mussels and cook for 2 – 3 minutes until all the shells have opened.
To finish, add the fresh chopped dill & lemon juice.