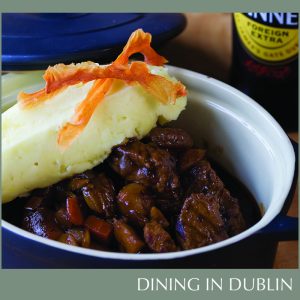 Recipes created by the Culinary team at the Guinness Storehouse, to be recreated and enjoyed at home.
INGREDIENTS SERVES 4
200ml of Guinness Foreign Extra Stout
400g stewing diced beef
1 medium onion – diced
1 large carrot – diced
1 large celery – diced
1 large parsnip – diced
1 litre of thick beef stock
Sprigs of fresh thyme & rosemary
Champ potato (creamed mash potato & spring onion)
Step 1. Stir fry the beef, add the vegetables & cook till tender, then pour the Guinness & reduce by half.
Step 2. Add the beef stock and herbs and simmer very slowly for between an hour and an hour and a half.
Step 3. Serve with the champ potato & honey roast carrot & parsnip