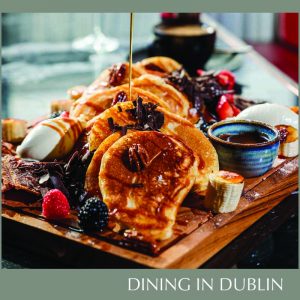 Pancakes aren't just for Tuesdays, but this Tuesday they most definitely are.  
Here is the lowdown on where you can get FREE hot cakes for Pancake Tuesday and our take on where to get your pancake fix! 
To celebrate Pancake Tuesday on 21st February, the Stella Diner in Rathmines will be giving out complimentary pancakes ALL DAY with toppings of icing sugar and maple syrup! The Stella Diner is Dublin's home to truly authentic warm and fluffy American-style pancake stacks.  
To claim your FREE pancake simply rock up to the Diner on Pancake Tuesday from 10:30am until we run out and you will be served a delicious pancake free of charge, no string attached (but you might want to grab one of our drip coffees or shakes to go with your pancake!). Stella Diner head chef, Justin Ekwe, has been flipping pancakes for over five years now and has come up with his American-inspired secret recipe so it's safe to say you'll be getting a seriously scrumptious pancake AND everything tastes better when it's free! 
The Stella Diner is open daily, seven days a week with full bar, and amazing food from all day breakfast to American diner classics, and everything in between.  
Stella Diner, 211 Rathmines Road Lower, Dublin 6.  
It's one of our favourite days of the year at Captain Americas! The pancakes are on us this Tuesday at all Captain America's locations in Grafton Street and Blanchardstown. 
Enjoy FREE crepe pancakes with any main purchased all day on Tuesday 21st February. 
Blanchardstown | Grafton Street 
And if you are on the hunt for the perfect pancakes served up with all the trimmings, look no further than these spots who will be flipping hot cakes all day! 
Home to the iconic Pancake Platter, Mackenzie's on Hanover Quay in Grand Canal Dock in Dublin will be serving up their famous platters all day this Tuesday 21st February. Normally only available at weekends, this is your chance to get your hands on this truly mammoth dish, consisting of a stack of fluffy American style pancakes, served with crispy bacon, fresh berries, raspberry coulis, vanilla mascarpone with Buckwud maple syrup, candied pecans & salted caramel sauce, topped with chocolate shavings. The famous dish is made for sharing, so grab your loved one and head down to Mackenzie's for the ultimate pancake experience. 
And for something a little different…
Celebrate the launch of Americana's new cocktail menu with a cocktail you won't flippin' believe! The Mate Ca is a concoction of Havana 3-Year-Old White Rum and inhouse made Blueberry cordial, garnished with a mini pancake! The question is, are you eating the pancake before or after you drink the cocktail?