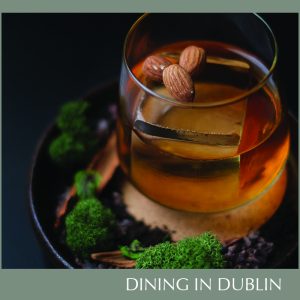 THE PERFECT WINTER WARMER COCKTAIL
Brought to you by Eden One
SOIL Cocktail (Element of Earth)
"I am the soil. I am in the hills and in the valleys, the farms, the orchards"
-Edward Norton
With the Winter season upon us, what better excuse to wrap up warm, get the fire lit and relax with a comforting cocktail. Eden One's Mixologist, Mossy has elevated the classic 'Old Fashioned' cocktail with a few twists to create Eden One's bespoke cocktail 'SOIL'.
Mossy uses premium ingredients such as Woodford Reserve, Tonka Bean Syrup and Walnut Bitters and even soaks the bourbon in Palo Santo, which is a wild mystical tree native to Peru, Ecuador, and other South American countries and used by locals against the "mala energía" (bad energy).
Eden One is themed around the eight elements: earth, air, water, fire, dark, light, ice and nature and this bespoke cocktail is inspired by the earth element. Featuring strong and earthy fragrances, this cocktail is an Eden One must try & a take on a Classic Old Fashioned which can be simply tweaked at home and made using only three ingredients.
Ingredients
Woodford Reserve Bourbon (60ml)
Brown Sugar (one cube or teaspoon)
Angostura Bitters (5 x dashes)
Method
Add one cube of brown sugar (or teaspoon) along with five dashes of the bitters into a rocks glass.
Break up the sugar and the bitters in a rocks glass.
Add 30ml of Bourbon and two large cubes of ice. Stir until the ice and sugar is completely melted.
Add another 30ml of Bourbon into the rocks glass, top up with ice and finish with an orange twist.
Sit back, relax and enjoy.
With unrivalled luxury experiences, Eden One is a go-to escape haven close to home that must be seen to be believed. For further information and to purchase a gift voucher, visit: www.edenone.ie.