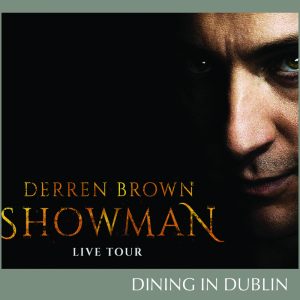 The multi award-winning master of mind control and psychological illusion, Derren Brown, is at his very best on stage. His one-man shows have received wide critical acclaim and more Olivier wins and nominations than any other in history!
Fresh from his hugely successful Broadway debut, Derren returns to launch his first brand new theatre show in six years: SHOWMAN. Don't miss Derren Brown at the Gaiety Theatre from 12 – 16 April. Tickets from €31 on sale now from ticketmaster.
The content of the show remains a closely guarded secret, but if you've seen him before, you know you're in for a powerhouse treat!
'BE BRAINWASHED INTO JOY BY ONE OF THE WORLD'S BEST MAGICIANS' – New York Times
 Booking Information
In Person : Gaiety Theatre Box Office South King Street, Dublin 2. Mon – Sat 12pm – 6pm (subject to performance schedule)
Individual Bookings : http://ticketmaster.ie/
Group Bookings 10+ : +353 (1) 646 8687  groups@gaietytheatre.com
Access Bookings: +353 (1) 646 8600
Box Bookings: http://ticketmaster.ie/–