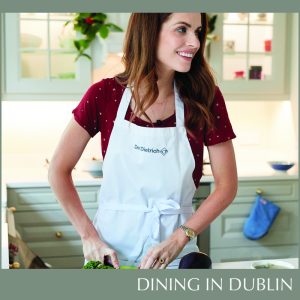 French kitchen appliance brand, De Dietrich have teamed up with vegan blogger and author Holly White to create a delicious vegan recipe that everyone can try this Veganuary. Holly's Vegan Nut Roast is a great meat alternative for dinner or makes a tasty and filling lunch.
Holly's Vegan Nut Roast Ingredients:
1 Carrot
4 Chestnut Mushrooms
100 g of Mushrooms
1 Clove of Garlic
1 Red Pepper
1 Teaspoon of Thyme (chopped or dry)
1 Teaspoon of Rosemary leaves (chopped)
4 Sage Leaves
1 Tablespoon of Miso Paste
125 g of Mixed Nuts
1 teaspoon of Chia or Flax Seeds
150 g of Cooked Lentils
1 Onion
2 Large Aubergines
Method:
Chop the end of the aubergine and finely slice it lengthways – if you have a mandolin this works well. Place these on an oiled baking sheet and bake them until soft – for approximately 15 minutes -in a hot 160* oven.
Chop all vegetables finely and fry on a medium high heat for 10-15 minutes until they have softened. Stir in the herbs, miso paste, chia seeds and the nuts. Allow to soften for a further 10 minutes and season with salt and pepper.
You can pulse the mixture in a food processor but I like to retain some texture so I then mash it using a potato masher. You want everything to be well combined.
Line a 1 lb loaf tin and lightly grease it with olive or coconut oil.
Remove the aubergines from the oven. They should be soft and very pliable. Use them to line the baking tray making sure they overlap and keeping them high enough to cover the top.
Spoon in your lentil mix into the tray and fold the aubergine on top. Secure it down with a toothpick if needed and place in the oven and roast at 160* for a further 50-60 minutes.
Upon removing from the oven, allow to rest for a few minutes and then place a plate or chopping board over the tin and gently flip around and remove the tin.
The De Dietrich "Twist, Click, Cook" technology enables anyone to emulate the precision and control of a professional chef. Simply twist the dial on the De Dietrich oven, click to begin the cooking process and let the oven do the hard work.
Available now from all leading appliance retailers nationwide or www.dedietrich.ie.