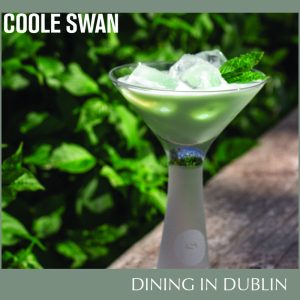 Ingredients:
80ml Coole Swan
35ml Peach & Orange infused Vodka (we used Ketel One)
15ml Creme de menthe
Method: 
Add all ingredients to your shaker with plenty of ice.
Shake for as long as your arms will allow.
Strain into a tumbler full of crushed ice.
Garnish with a slice of orange & a mint leaf.
Serve and enjoy! 
The Story Behind "1923"
This cocktail is a tribute to the literary giant, WB Yeats, who was the first Irish man to be awarded the Nobel Prize in literature in 1923. Coole Swan got it's name from his poem "The Wild Swans at Coole". His poetry is soft with a hint of a kind soul, which is emulated in this cocktail. With delicate citrus hints from the peach and orange infused vodka alongside the Crème de Menthe and Coole Swan, the 1923 is both smooth and refreshing.
The 1923 has a delicate green tint that matches its minty taste. Served in a martini glass, this cocktail is garnished with a sprig of mint to tie the taste and look together.
Coole Swan Irish Cream Liqueur. No. 1 Liqueur in the World.
It is easy to list the ingredients of Coole Swan – there are only ever three; Single Malt Irish Whiskey, the finest Belgian White Chocolate, and Irish dairy cream. It's a little harder to describe the beauty of the blend, and the flavours and textures that result when all three come together in one glass. The subtle warmth of the whiskey underscores the richness of the chocolate, and both combine with the smoothness and freshness of the cream. It's delicious.
In 2020, Wine Enthusiast Magazine named it the number one cream liqueur in the world. Awarding it 96 points out of 100, they called it "the pinnacle of quality".
No other cream liqueur has ever achieved this 'legendary' status.
Visit us here to learn more: