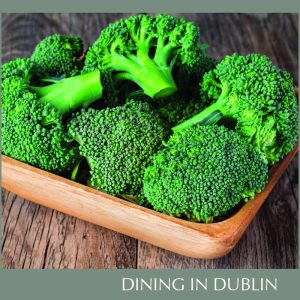 Each month Mash Direct will feature a vegetable of the month based on its "in season in Ireland" credentials.  This months' star vegetable is Broccoli.
Enjoying vegetables in season makes sense, it ensures it's freshness and it means that you are more than likely to be sourcing your food locally thereby supporting a more sustainable economy. At Mash Direct no vegetable is too ugly to be included in the final line-up, as the veg are prepared on site they don't have to conform to the strict size and shape requirements demanded by most supermarkets ensuring no wastage!
World renowned as a superfood, you may or may not know that Broccoli is a member of the cabbage family. Despite the fact that it thrives in moderate to cool climates Broccoli originated in the warmer climes of Italy and first appeared in super markets in the UK and Ireland in the late 70's. Broccoli can be enjoyed many ways – steam cooked Broccoli brings out it's vibrant green colour which jumps off the plate bursting with flavour, or it can be enjoyed raw in a salad for a delicious healthy crunch! There are lots of different ways to eat Broccoli and this delicious vegetable has been a friend of the award winning Mash Direct brand since 2008 when it was introduced to their fresh convenience range.
Despite its greener than green appearance Broccoli mini tree like appearance is loved by children and can help your little ones grow up to be big and strong!   It is also one of the healthiest, simplest vegetables we can eat. It's a good source of fibre and protein but it also contains iron, potassium, calcium, selenium and magnesium as well as the vitamins A, C, E, K and a good array of B vitamins including folic acid. This green and good for you vegetable is also a brilliant source of Vitamin C, which can help to boost the immune system, which is so important right now.
Utilising six generations of the Hamilton family's farming expertise, Mash Direct vegetables are gently steam cooked immediately after harvesting, guaranteeing an unrivalled freshness of flavour with no compromise on either the nutritional benefits or natural texture of the vegetable.
Simple yet wholesome to make, these Broccoli based Mash Direct recipes are perfect for a delicious family meal or side dish for any upcoming summer BBQ's.
Broccoli Cheese Pastry Slice
Broccoli and Chicken Pasta Bake
To discover the world of Mash Direct and their delicious recipes check out their website here: www.mashdirect.com 
Broccoli and Chicken Pasta Bake
Cook time: 30 mins
Serves: 4
Ingredients:
1 packet of Mash Direct Broccoli with a Cheese Sauce
450g dried penne pasta (use gluten free if desired)
350g diced chicken pieces
2 tbsp olive oil
200g cream cheese with garlic and herbs
50g red pesto
100g mature cheddar cheese, grated
1 slice white bread, processed into crumbs (use gluten free if desired)
Method:
Preheat oven to 175°C, 350°F, Gas Mark 4.
Bring a large pan of salted water to the boil and add all the pasta. Return to the boil. Cook the pasta until 'al dente' for 7-10 minutes. Drain the pasta and set aside.
Meantime, heat the oil in a large frying pan over a medium heat. Cook the chicken pieces until they are lightly browned and are cooked through to the middle.
Once the chicken is cooked, combine with the pasta in the pot.
Add the cream cheese, red pesto and Mash Direct Broccoli with a Cheese Sauce. Stir the ingredients gently so as not to break up the broccoli florets until well combined.
Pour the mixture into a deep casserole dish (roughly 30cm x 23cm). Top with grated cheese and the breadcrumbs.
Place in the oven for 20 minutes until golden and crisp on top.
Broccoli and Cheese Pastry Slices
Cook time: 30 mins
Serves: 4
Ingredients:
1 – 2 packets of Mash Direct Broccoli with a Cheese Sauce
1x Puff Pastry Sheet
25g butter
1 onion
2 – 3 tbsp wholegrain mustard
1 egg
100g crumbled feta
100g grated cheddar cheese
Method:
Preheat the oven to 220°C / 200°C for fan assisted/ Gas M. 7 / 390°F
Melt the butter in a pan and gently sauté the onions until just tender then allow to cool.
Heat the Broccoli with a Cheese Sauce in the microwave according to package instructions.
Unroll the pastry sheet and place on a lined baking sheet. Lightly score a 2cm border around the pastry. Spread the mustard, leaving the border clear.
Mix the Broccoli into the pan of sautéed onions, cutting the florets into small pieces. Pour mixture over the pastry, leaving the border clear.
Brush edges with beaten egg and bake for 20-25 minutes until pastry is risen and golden and cheese melted. Serve hot.
As an optional extra, you can add other vegetables or meat to this dish. Try making it with pulled gammon or peppers!
Website: www.mashdirect.com  
Facebook: www.facebook.com/MashDirect  
Instagram: @mashdirect