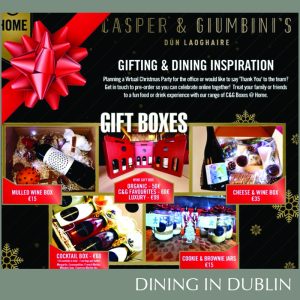 Located on the promenade at The Pavilion in Dun Laoghaire, Casper & Giumbini's is a modern Irish brasserie – serving fresh seafood, chargrilled steaks and our trademark hamburgers. Draft and craft beers, signature cocktails and & an extensive wine list focusing on sustainable, low intervention wine making.
There is something for everyone at Casper & Giumbini's.
We have all our Christmas menus on offer plus our a la carte and have launched our Christmas Dinner Feast today!
We are open:
from 9am everyday for coffees and pastries.
Lunch 12-4pm, Monday to Friday
Brunch Sat / Sun 12-4pm
Dinner 4pm everyday
Here's our Christmas Set Menu:
https://www.diningindublin.ie/wp-content/uploads/casper-giumbinis-xmas-set-menu.pdf
Our takeaway boxes are all still available too until Xmas Eve plus our in house or online Vouchers can be purchased here:
https://vouchers.giftvouchersolutions.com/vouchersales/Choose.aspx?c=CANDG
View Menus & Gift Boxes here:
https://casperandgiumbinis.ie/?fbclid=IwAR00H-ouBSuyHkhJv04wbRYa26AlyI2fzC-v1MzqLQm1iZO1_sa120S78bs#menu
8, The Pavilion,
Marine Road,
Dún Laoghaire,
Co. Dublin.
 info@casperandgiumbinis.ie
 +353 (0) 1 4432699