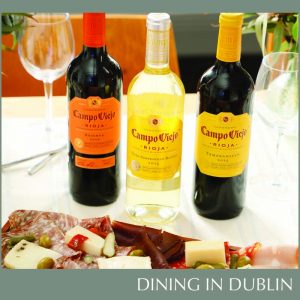 Campo Viejo
La Rioja is the home of Campo Viejo, surrounded by beautiful rolling landscapes, dotted with medieval hamlets and of course vineyards. Protected by the mountains and nourished by the Erbo river, La Rioja's location plays huge role in creating the perfect conditions for growing grapes. The story of Campo Viejo is the result of more than 50 years' experience. It is a story marked by the production of Rioja wines of unquestionable quality and a commitment to its people, research, innovation, responsible drinking and respect for the environment. This has led to Campo Viejo's position as the No. 1 Rioja in the world, with a presence in over 70 countries and strong growth in Ireland, the U.S., UK, Germany and Canada, among other countries.
Campo Viejo Portfolio 
Campo Viejo Tempranillo: 
A cherry red colour, suggestive of a vibrant Tempranillo wine. The wine spends four months in American oak casks before rounding off its ageing in the bottle. On the nose, its rich aromas have a pronounced intensity with an initial scent of ripe red fruit followed by gentle sweet notes of vanilla and spices. On the palate it is perfumed, soft and fresh with a long finish that leaves memories of red fruit, vanilla and cocoa. 
Campo Viejo Garnacha:
A red colour with purple flashes, very bright and lively. This wine spends four months aging in new French oak barrels. On the nose it floods of fruit, strawberry, raspberry, blackberry, enhanced with floral notes of violet and lilac. On the palate it is soft, silky, fresh and intensely fruity with a finish of lasting fruit and freshness. 
Campo Viejo Reserva:
Made from Tempranillo, Garciano and Mazeulo grapes this wine is aged for three years to deliver a rounded wine, full of flavour.  Ruby red with a golden hue at the rim, bright and deep in colour. Tastes of: Smooth, balanced mouth feel, elegant and full with a long finish. This wine reveals the sensations contributed by the grape varieties, cherry, black plum and ripe juicy blackberries. 
Campo Viejo Gran Reserva:
Made from Tempranillo, Garciano and Mazeulo grapes, this wine is aged for two years in French oak barrels and American casks to finish its ageing in the bottle for at least 3 years.   Vibrant in colour it is ruby red with a golden hue.  Tastes of: Smooth, balanced mouth-feel, with sweet, polished tannins, ripe red-berry fruit aromas of blackberries, blueberries and black plums, gradually opening up to reveal smoky, toasted wood nuances with spices and hints of minerals and tobacco. Finishing with a long, elegant, perfumed finish with final hints of coffee with chocolate.