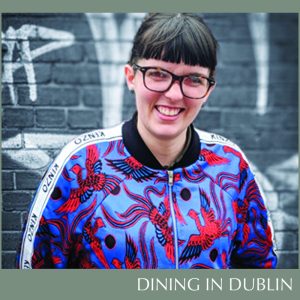 This week on Beyond The Menu, Mark reunites with fellow DIT graduate, Holly Dalton (27). Since leaving college, Holly has worked in some of Dublin's top restaurants including Michelin star Chapter One and Restaurant 41.
Dubliner Holly is former head chef at newly-opened, city centre restaurant, Gertrude. While she is blazing a trail for female chefs, she reveals to Mark that she has never worked under a female head chef. She explains that while many kitchens are getting more gender balanced and they are no longer "boys' clubs" she thinks a network for female chefs could inspire women to stick with a culinary career.
Another cause close to Holly's heart is ensuring her ingredients are sustainably sourced. She brings Mark to visit Co Meath pig farmer Peter Whelan of The Whole Hogg in Slane. Holly and Mark trek with Peter to see the free-range pigs in their natural habitat. Mark and Holly also visit Bread 41 which is located near her restaurant on Pearse Street and who supply her restaurant.
Holly then brings Mark to Galway to meet her mentor, head chef Jess Murphy from Galway restaurant Kai. They embark on a food tour of the city and meet the leading female chefs there that have been mentored Jess. They call into Marmalade Bakery, McCambridge's and Tigh Neachtain.
After a fun and food-filled day in the west, Mark and Holly return to Gertrude to prepare their pop-up dinner. A female-only evening, they are joined by their mums and other influential female figures in their lives, including Jess. Tune in on Monday night to find out how they get on.
BEYOND THE MENU SYNOPSIS 
Beyond the Menu is a brand new six-part series for RTÉ One coming this Autumn.
Presented by award-winning chef, Mark Moriarty, this exciting series goes behind the kitchen doors at some of Ireland's top restaurants run by young chefs. From Michelin starred establishments and hotly anticipated newcomers to more casual dining experiences, Beyond the Menu gets a unique insight into the people who are making waves in the Irish food scene. Ireland is going through a quiet transformation in fine dining cuisine and Mark wants to celebrate this.
Mark will travel to the four corners of Ireland, from Donegal to West Cork to meet with other like-minded chefs and spend some time with them both inside and outside the kitchen. What will chef Mark learn from spending time with our brightest young chefs? What drives them, what inspires them and what makes them stand out in this new movement in Irish cooking? In each episode, we get a real understanding of what it's like to be in this industry from the people who live and breathe it every day.
Beyond the Menu is all about showcasing great young chefs, their raw talent and the passion behind why they do it. Mark will learn what makes them and their food tick, what makes them stand out. Mark will create new dishes with each chef as they host a series of pop up nights all around the country.
ABOUT Mark Moriarty
Mark Moriarty is a 27-year-old multi-award winning chef. In 2013 he was named the Euro Toques Irish Young Chef of the Year at a ceremony at Google HQ in Dublin. In February 2015 he was crowned the San Pellegrino UK & Ireland Young chef of the Year at a ceremony in Harrods, London. Representing this region, and mentored by Michelin starred Clare Smyth MBE, Mark went on to be crowned the San Pellegrino World Young Chef of the Year at a ceremony in Milan, Italy.
Mark has travelled the globe working alongside some of the best chefs in the world in their restaurants. He has also taken his pop up restaurants on a worldwide tour showcasing Irish food globally in places such as London, Milan, Australia, Hong Kong, Singapore and Johannesburg.
Mark is part of the team at The Greenhouse restaurant on Dawson Street in Dublin, which holds one Michelin star. Here he works alongside head chef Mickael Viljanen and the small kitchen brigade.
ABOUT Holly Dalton
Since leaving college Holly has had a definite career path she is following and she is certainly not part the boys club that is synonymous with the food industry, the balance is changing and Holly is a champion for women in the kitchen and has the courage and confidence to talk about this issue.
Since Holly (27) completed her BA in Culinary Arts at Dublin Institute of Technology, she has bounced around some of the best kitchens in the capital, including Restaurant 41 and Chapter One. Holly (Wexford born) has a fine-dining background working in a two Michelin Star restaurant in Stockholm. She is now the head chef at Gertrude where she has been for the past year. Gertrude is a 65-seater restaurant aiming to provide quality food and café vibes – Coffee by day, wine by night. The food is all handmade on-site by Holly and her team excluding the bread and pastries which will come from the nearby Bread Nation bakery.
Holly says that her "career as a chef initially started with me being really into street food but then I quickly realised that I would have to work fine dining to get trained properly and get the skills behind me to be able to produce very high-quality food."
Holly's dishes are all about bringing 'casual food with fine dining elements'. Holly feels food and restaurants should be my more about the diners "It's called hospitality, we are cooking for customers and not for chefs." Holly is passionate about Japanese food and using Japanese techniques with Irish ingredients. She became obsessed with making dumplings and making them distinctly Irish. Holly is all about Flavour, being approachable and having fun.
NOTE: Since filming Beyond The Menu, Holly has moved on from working in Gertrude and is exploring new opportunities.