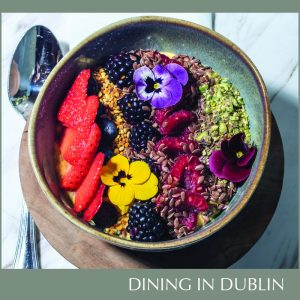 Make healthy breakfasts easy with AVOCA's Mango, Turmeric, Coconut & Chia Seed Pudding. The perfect morning boost to start your day; it's creamy, satisfying and loaded with protein, fibre and omega-3s and packed with antioxidants. Plus, it's vegan and gluten-free!
Makes 6 portions
Ingredients:
1 can of coconut milk
½ can of cold water
300ml of mango puree or the flesh of 2 mangoes pureed
3 mangos destoned and cut into pieces
60g chia seeds
40g maple syrup
20g turmeric root grated finely or a pinch of powdered turmeric
Dress with colourful edible flowers
Method:
Mix all the ingredients together and allow stand for 1 hour in the fridge.
Take out form the fridge and blend together with a hand-held soup blender.
Don't blend too fine, allow it to be coarse in texture. Allow to rest overnight.
Half fill a glass or bowl with the soaked chia seeds pudding. Decorate half the surface of the glass or bowl with raspberries, blackberries, blueberries, chia seeds, cacao and toasted shaved coconut.
Dress it up with some beautiful edible flowers
About AVOCA:
AVOCA comprises 13 stores and is famed for their award-winning cafes, luxury homewares, fashion, accessories and gifting ranges. Established in 1723 as a handweaving company, AVOCA continues today to produce quality wool products from the original site at AVOCA, Co. Wicklow.  AVOCA stocks a wide range of Irish and international fashion brands.