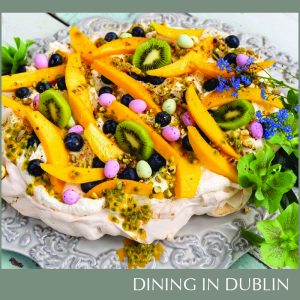 Make a pretty and delicious centrepiece dessert to enjoy this weekend with AVOCA's Mango & Blueberry Pavlova recipe. It's colourful, flavour-packed and almost too beautiful to eat – almost!
Makes 1 Large Pavlova
Ingredients:
225ml free range egg whites (approx 6 large eggs)
330g caster sugar
1 tablespoon corn flour
1 ½ teaspoons white vinegar
2 teaspoon vanilla
Pinch of sea salt
1 punnet of fresh blueberries
2 mangos, sliced
Decorative chocolate mini eggs
375ml whipping cream
1 teaspoon vanilla
80g icing sugar
Method:
Pre heat oven to 100C and draw a circle or oval on parchment paper, depending on what platter you will be serving the pavlova on. Flip the paper so the outline is underneath and place on a greased baking tray.
In a stand-up mixer, add egg whites and a pinch of salt, whisk for 10-12 minutes on high speed until the egg whites start to form stiff peaks. Gradually add the caster sugar, 1 tablespoon at a time (this will take a further 12-15min) and the egg whites will become thick and glossy. This is a very important step, do not rush this process. Next add the vinegar, corn starch & vanilla. Whisk for another minute to fully incorporate.
Spoon the meringue in the centre of your shape and build a pillowy soft nest, making sure to fill out to the edge of your outline. Make sure to make indents into the meringue, this is where all the amazing fruit and cream can sit.
Bake in the oven for 2 hours, until the outside is nicely crisp and dry. Turn off the oven and let sit inside for 3 hours to let it cool naturally.
Whip the cream with the icing sugar and vanilla until light and fluffy.
Have all your fruit, cream and mini eggs ready to assemble.
Now the fun part… layer dollops of whipped cream, fruit and mini eggs all over the top of the meringue, making pretty patterns, as this will be your showstopping centrepiece dessert.
Tip: AVOCA like to decorate the pavlova with fresh leaves and edible flowers to really brighten up the dessert.
About AVOCA:
AVOCA comprises 13 stores and is famed for their award-winning cafes, luxury homewares, fashion, accessories and gifting ranges. Established in 1723 as a handweaving company, AVOCA continues today to produce quality wool products from the original site at AVOCA, Co. Wicklow.  AVOCA stocks a wide range of Irish and international fashion brands.