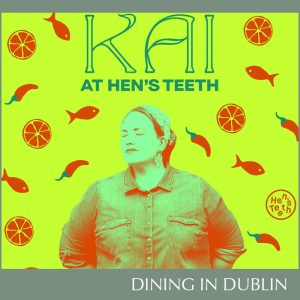 Jess Murphy and her west coast crew bring their 'dirty' Galway fare to Dublin for two nights only
[Dublin, Ireland] Hen's Teeth is delighted to welcome the incredible Kai crew from Galway for a two-night only pop-up at their Dublin 8 restaurant on Friday & Saturday, 1 & 2 July.
Since 2011, Kai have used local, seasonal ingredients cooked intelligently to the west of Ireland and have earned a Michelin Bib Gourmand and a lot of love in Ireland and across the globe.
For the first weekend in July, they're bringing a casual and tasty take to their favourite Galway ingredients at Hen's Teeth. Think Inis Mór Crab with Liam's Tomatillos, Fried Knocklara Zuchini with Hot Honey and Connemara Lobster Thermidor with Shepard's Store.
And of course, a Buckfast & Pomegranate Slushies to wash it all down with. There might even be a Buckie hot sauce in the mix!
Bookings can be made through the Hen's Teeth OpenTable. See www.hensteethstore.com for more.
Event details
Where: Hen's Teeth, Blackpitts, Dublin 8, D08A9FD
Booking: This is not ticketed or pre-paid. Please book through Hen's Teeth on Open Table as normal
About Kai
Kai Restaurant is nestled between the church and a gay bar down on Sea Road in Galway's Westend. The building which was home to a florist before New Zealander Jess and Carlow's Dave Murphy arrived in over 10 years ago and transformed the space into what it is today, Kai.
Kai is the Maori word for food and in 2011 they opened the door with a simple formula — high-quality produce, preferably organic or wild, sourced locally and cooked intelligently.
What's in season will be on your plate.
www.kairestaurant.ie @kai_galway
About Hen's Teeth
Hen's Teeth creates contemporary cultural experiences from their home on Blackpitts in Dublin 8. They've got a love for art, music, food and culture and the space where they all come together – whether that's through their own gallery, store and café or for some of the interesting folks and brands that they collaborate with across the world. Recent food events include An Evening with Tom Booton, Head Chef at The Grill at the Dorchester; Vito's, a pop-up trattoria with Soprano's star Joe Gannascoli and a Bahay x Hen's Teeth Weekender.
www.hensteethstore.com @hensteethstore