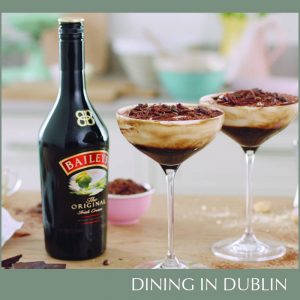 On October 1st coffee lovers around the world will celebrate International Coffee Day, which was first launched in 2015 by the International Coffee Organization in Milan.
The first drink of the day for many, coffee is also the perfect ingredient for some delicious cocktails, whether it's an after-dinner Baileys Tiramisu Cocktail or the perfect Smirnoff Espresso Martini with friends.
With the weather getting colder we could all do with a cosy coffee cocktail!
So, here are 3 indulgent cocktails to make at home to celebrate International Coffee Day with friends and family.
BAILEYS TIRAMISU COCKTAIL
INGREDIENTS
100ml Baileys Original Irish Cream
100ml strong hot coffee
20g chopped chocolate
2tbsp soft brown sugar
60g lady finger biscuits
120g mascarpone
Cocoa powder, chocolate coffee beans and chocolate flakes to garnish
PREPARATION
Mix the hot coffee with the sugar and chocolate until smooth.
Blend the Baileys and biscuit crumbs with four ice cubes in a blender until smooth.
Put the mascarpone in a bowl, add a third of the Baileys mixture and mix together.
Fold in the rest with a spoon.
Pour the coffee mixture into two martini cocktail glasses then spoon over the Baileys mascarpone mix.
Dust with the cocoa powder and sprinkle over coffee beans, chocolate flakes and curls.
Check out our recipe video here.
ROE&CO IRISH COFFEE
INGREDIENTS
40ml Roe & Co
75ml hot coffee
1 tsp demerara sugar
Whipped double cream
Grated nutmeg
PREPARATION
Add all ingredients (apart from cream) to an Irish coffee glass and stir to dissolve sugar.
Top with a dollop of double whipped cream.
Sprinkle the grated nutmeg.
Feeling indulgent?
Whip your cream with 5ml of maple syrup and a drop of vanilla essence.
SMIRNOFF ESPRESSO MARTINI
INGREDIENTS
50ml Smirnoff No. 21 Vodka
25ml coffee liqueur
15ml sugar syrup
35ml fresh espresso (standard single shot)
3 coffee beans
PREPARATION
Add all liquid ingredients to a cocktail shaker.
Add ice to cocktail shaker.
Shake for 15 seconds and fine strain into a chilled martini glass.
Top with coffee beans to garnish.
Enjoy Diageo spirits responsibly.
Visit www.drinkaware.ie
ABOUT DIAGEO
Diageo is a global leader in beverage alcohol with an outstanding collection of brands including Johnnie Walker, Crown Royal, JεB, Buchanan's and Windsor whiskies, Smirnoff, Cîroc and Ketel One vodkas, Captain Morgan, Baileys, Don Julio, Tanqueray and Guinness. Diageo is a global company, and its products are sold in more than 180 countries around the world. The company is listed on both the London Stock Exchange (DGE) and the New York Stock Exchange (DEO). For more information about Diageo, its people, its brands, and performance, visit www.diageo.com. Visit Diageo's global responsible drinking resource, www.DRINKiQ.com, for information, initiatives, and ways to share best practice.