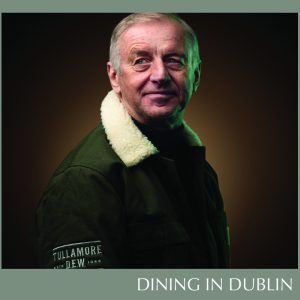 Nov 22nd: Last night at a ceremony in Dublin, John Quinn, Tullamore D.E.W.'s first ever Global Ambassador was inducted into Whisky Magazine's Hall of Fame. The prestigious award comes as John celebrates 40+ years working within the Irish Whiskey Industry. 
John is the first Irish Whiskey Global Ambassador to be inducted into the Hall of Fame since its inception in 2004. The recognition is the highest honour awarded by Whisky Magazine, and is selected by an independent editorial panel. 
Speaking of his most recent accolade, John said: "It is an incredible honour to be selected. I am truly grateful. This is often described as the best job in the world and it's been my privilege to proudly spread the gospel in markets across the world. Tullamore D.E.W. continues to grow at double-digit rates globally". 
The Hall of Fame was inspired by the top 100 greatest whisk(e)y figures in history who appeared in the 100th edition of the magazine. Now the Whisky Magazine Hall of Fame is a permanent tribute honouring those individuals who have made a lasting contribution to the world of whiskey. It is a highly regarded accolade that emphasises John's tenure. To add, in December 2018 John was appointed Vice Chairman of the Irish Whiskey Association. And in 2016, he was named 'Whiskey Brand Ambassador' of the year by Whisky Magazine's Icons of Whisky Awards. If that wasn't enough, John was also named one of the Top 10 most influential people in Irish whiskey by The Spirits Business in 2016. 
Tasked with travelling around the globe, John works closely with the bartender community, brand managers, sales teams and consumers, spreading the message that Tullamore D.E.W. is the original triple blend Irish whiskey. That is golden grain whiskey, malt whiskey and pot still whiskey are expertly blended providing a balance of flavour like no other in the category. 
Tullamore D.E.W. is a triple blend of all three types of Irish whiskey: pot still, malt and grain, triple distilled, and triple cask matured to deliver a whiskey of exceptional character. Because of this, Tullamore D.E.W. champions the rich, transformative power of blend in whiskey and in culture.